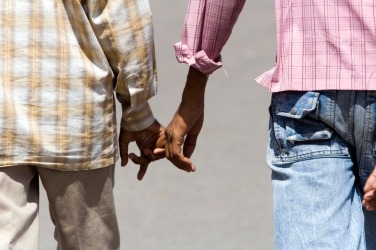 A homosexual couple.
adjective
The definition of homosexual is people who are sexually attracted to individuals who are the same sex, or it is something related to sexual attraction to someone of the same sex.

A man's sexual attraction to another man is an example of something that would be described as a homosexual attraction.
A bar that is primarily frequented by gay men and gay women is an example of a homosexual bar.
noun
Homosexual is defined as a person who is sexually attracted to someone of his or her own sex.

A man who is sexually attracted to other men is an example of a homosexual.
---
homosexual
of, characterized by, or having to do with homosexuality
Origin of homosexual
see homo-
---
homosexual
adjective
Of, relating to, or having a sexual orientation to persons of the same sex.
noun
A homosexual person; a gay man or a lesbian.
---
homosexual

Adjective
(comparative more homosexual, superlative most homosexual)
(of a person or animal) Sexually attracted primarily to other members of the same sex. Being either a male androphile or a female gynephile. (Sometimes used in the sense of sole/exclusive attraction.)
(of a romantic or sexual act or relationship) Between two people of the same gender or same sex; gay.

My sister is currently in a homosexual relationship with a girl in her class.
homosexual acts, a homosexual kiss
Usage notes
Many homosexual people prefer to be referred to by the adjective (noun) gay.
Many female homosexuals prefer to be referred to as lesbians.
Many people now avoid using the term homosexual because of the emphasis this term places on sexuality. Indeed, the words gay and lesbian, which stress cultural and social matters over sex, are frequently better choices. Homosexual is most objectionable when used as a noun; here "gay man" and either "gay woman" or "lesbian" and their plural forms are called for. It is generally somewhat less objectionable when used adjectivally, as in "a homosexual relationship", although "gay", "lesbian", or "same-sex" are also available for adjectival use.
Pronunciation: The word "homosexual" derives from the Greek word for "same", which is traditionally pronounced /ˈhɒməʊ/, /"hQm@U/ in words derived from it, rather than the Latin word homo ("man"), which is pronounced /ˈhəʊməʊ/, /"həUməU/ (RP) in English words derived from it. Hence the etymology indicates that the appropriate pronunciation of the vowel in the first syllable is /ɒ/, /Q/, but the pronunciation with the long vowel /əʊ/, /@U/ in this position is much more commonly heard, and is the only correct pronunciation of the shortened form homo.
Because of the similarity of homo- to the Latin word for man, the term homosexual is sometimes interpreted as meaning "sexually attracted solely or primarily to [other] men".
Noun
(plural homosexuals)
A person who is attracted solely or primarily to others of the same sex.
Usage notes
Female homosexuals are also known as lesbians, a term preferred by many of them. As homosexual applies to people of either sex, the expression homosexuals and lesbians is a pleonasm and is best replaced by "homosexuals" or "lesbians" alone as appropriate, or "gay people" (see also the usage notes for the adjective, and for gay).
Origin
From homo- + sexual, English from 1892.
---