haphazard

hap·haz·ard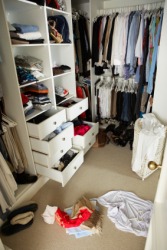 Things have been thrown in this closet in a haphazard way.
adjective
The definition of haphazard is something disorganized or without any particular order to it.

An example of haphazard is when you just throw your things all over the house when you come in at the end of the day instead of placing them in particular spots.
---
haphazard
mere chance; accident; fortuity
Origin of haphazard
hap + hazard
---
haphazard
adjective
Dependent upon or characterized by mere chance. See Synonyms at
chance
.
noun
Mere chance; fortuity.
adverb
By chance; casually.
Related Forms:
---
haphazard

---