engineer

en·gi·neer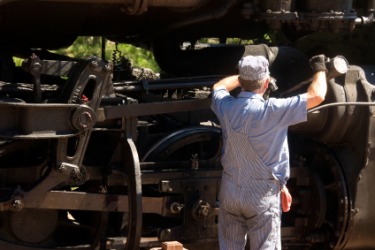 A railroad engineer working in his locomotive.
noun
The definition of an engineer is a person who uses science, math and creativity to solve technical problems.

An example of an engineer is a person who designs a low cost system to produce a specific product.
verb
To engineer is defined as to create, plan, build or design a solution or a process.

An example of to engineer is to create a new security software for a computer.
---
engineer
Now Rare

a person who makes engines
a person skilled or occupied in some branch of engineering: a mechanical engineer

a person who operates or supervises the operation of engines or technical equipment: a locomotive engineer, radio engineer
a specialist in planning and directing operations in some technical field

a skillful or clever manager

Mil.

a member of a military engineering unit trained in the construction and demolition of bridges, roads, airfields, etc.
Origin of engineer
earlier
enginer
from Middle English
enginour
from Old French
engigneur
to plan, construct, or manage as an engineer
to plan and direct skillfully; superintend; guide (a measure, action, etc. through)
---
engineer
noun
One who is trained or professionally engaged in a branch of engineering.
One who operates an engine.
One who skillfully or shrewdly manages an enterprise.
transitive verb
en·gi·neered, en·gi·neer·ing, en·gi·neers
To plan, construct, or manage as an engineer.
To alter or produce by methods of genetic engineering: bacteria that are genetically engineered to produce insulin.
To plan, manage, and bring about by skillful acts or contrivance: engineer a business takeover; engineer social changes by legislation.
Origin of engineer
Middle English
enginour
from
Old French
engigneor
from
Medieval Latin
ingeniātor
contriver
from
ingeniāre
to contrive
from
Latin
ingenium
ability
; see
engine
.
---
engineer

Usage notes
Adjectives often applied to "engineer": mechanical, electrical, civil, architectural, environmental, mechatronics, industrial, optical, nuclear, structural, chemical, military, electronic, professional, chartered, licensed, certified, qualified.
Verb
(third-person singular simple present engineers, present participle engineering, simple past and past participle engineered)
---
engineer - Computer Definition

A person skilled in the science of putting scientific knowledge to practical use, specifically in the design, planning, construction, or maintenance of manufactured things. Engineering is divided into branches such as chemical, civil, electrical, mechanical, and software.
---
---