engineering
en·gi·neer·ing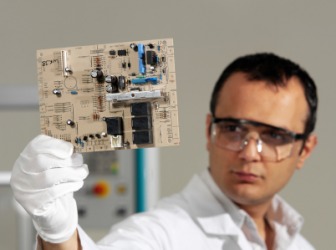 This man works in the electrical engineering field.
noun
Engineering is defined as an act of skilled managing or the practical application of science and math skills to everyday life.

An example of engineering is to build a bridge or road over a canyon between two steep hillsides.
An example of engineering is a computer technician being able to figure out what's wrong with a computer and fix it by giving instructions to the user over the phone.
---
engineering
the science concerned with putting scientific knowledge to practical uses, divided into different branches, as civil, electrical, mechanical, and chemical engineering
the planning, designing, construction, or management of machinery, roads, bridges, buildings, etc.

the act of maneuvering or managing
---
engineering
noun
a. The application of scientific and mathematical principles to practical ends such as the design, manufacture, and operation of efficient and economical structures, machines, processes, and systems.

b. The profession of or the work performed by an engineer.

Skillful maneuvering or direction: geopolitical engineering; social engineering.
---
engineering

Noun
(plural engineerings)
(uncountable) The application of mathematics and the physical sciences to the needs of humanity and the development of technology.
---