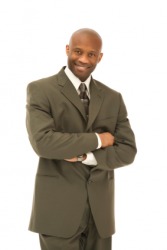 A dapper young man.
adjective
The definition of dapper is someone neat, tidy or very stylish.

An example of dapper is a man dressed up in a suit for a wedding.
---
dapper
small and active
trim, neat, or smart in dress or appearance
Origin of dapper
Middle English
daper
, agile, trim from Middle Dutch
dapper
, nimble, powerful, akin to German
tapfer
, brave, Old Norse
dapr
, heavy from Indo-European base an unverified form
dheb-
, thick, solid, stocky: the sense development is from "heavy, powerful" to "nimble" to "trim, neat"
---
dapper
adjective
a. Neatly dressed; trim.

b. Very stylish in dress.

Lively and alert.
Origin of dapper
Middle English
daper
elegant
probably from
Middle Dutch
dapper
quick, strong
Related Forms:
---
dapper

Adjective
(comparative more dapper, superlative most dapper)
Origin
Middle English daper, from Middle Dutch dapper "stalwart, nimble", from Proto-Germanic *dapraz 'heavy; bold' (compare German tapfer "bold", Norwegian daper "saddened, dreary"), from Proto-Indo-European *dʰeb- 'thick, heavy' (compare Tocharian A tpär 'high', Latvian dàbls 'strong', Serbo-Croatian дебео (dèbeo) 'fat').
---