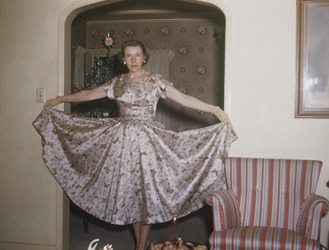 A prim housewife from the 1950's.
adjective
The definition of prim is a proper, precise and formal person.

An example of prim is a traditional fifties housewife who does not wear casual clothes, and instead is always dressed as if she is ready to leave the house.
---
prim
adjective
prim′mer

,

prim′mest
stiffly formal, precise, moral, etc.; proper; demure
Origin of prim
from uncertain or unknown; perhaps Middle French
prim
, prime, first (also sharp, thin, slender; hence, neat) from Classical Latin
primus
, first: see prime
transitive verb
intransitive verb
primmed

,

prim′ming
to assume a prim expression on (one's face or mouth)
---
prim
adjective
prim·mer, prim·mest
a. Precise or proper to the point of affectation; excessively decorous.

b. Strait-laced; prudish.

Neat and trim: a prim hedgerow.
verb
primmed, prim·ming, prims
verb
transitive
To fix (the face or mouth) in a prim expression.
To make prim, as in dress or appearance.
verb
intransitive
To assume a prim expression.
Origin of prim
Possibly from
obsolete
prim
formal or demure person
perhaps from
Old French
prin
first, delicate
; see
prime
.
Related Forms:
noun
A privet.
Origin of prim
Short for
obsolete
primprint
of unknown origin
---
prim

---