rakish

rak·ish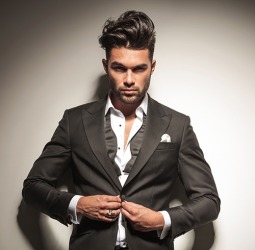 The women took notice of the rakish young man as soon as he arrived at the party.
adjective
The definition of rakish is a neat and trim appearance of a person or thing.

An example of rakish is a Maori canoe.
An example of rakish is a stylishly dressed man.
---
rakish
having a trim, neat appearance suggesting speed: said of a ship
having a smartly trim, casual look; dashing; jaunty
Origin of rakish
from rake + -ish
---
rakish
adjective
Nautical Having a trim, streamlined appearance: "We were schooner-rigged and rakish, with a long and lissome hull" ( John Masefield )
Dashingly or sportingly stylish; jaunty.
Origin of rakish
Probably from
rake
3
(
from the raking masts of pirate ships
)
adjective
Of the character of a rake; dissolute.
---
rakish

---