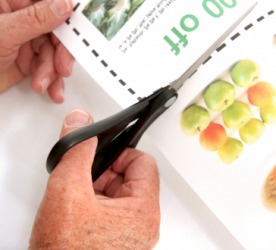 A person clipping a coupon from a paper.
noun
The definition of a clipping is something that has been cut out or off.

An example of a clipping is a piece of art that's been cut from a magazine.
---
clipping
the act of cutting out or trimming off
something cut out or trimmed off: hair clippings
a news story or other item clipped from a newspaper, magazine, etc.
Origin of clipping
from clip
---
clipping
noun
Something cut off or out, especially an item clipped from a newspaper or magazine.
See clipped form.
---
clipping

Verb
Present participle of clip.
Noun
(countable and uncountable, plural clippings)
(countable) A piece of something removed by clipping.

a clipping of hair
grass clippings

(countable, linguistics) A short form (of a word).

The word "ad" is a clipping of "advertisement".

(uncountable, signal processing) the process of cutting off a signal level that rises above a certain maximum level
---
clipping - Computer Definition
(1) Cutting off the outer edges or boundaries of a word, signal or image. In rendering an image, clipping removes any objects or portions thereof that are not visible on screen. See scissoring. See also WCA.
(2) A square ("clipped") waveform that occurs when the power output of an amplifier cannot meet the power requirement of the speaker it is driving. Clipping can be very harmful to high-frequency speakers (tweeters).
---