adjective
The definition of childish is a person or thing that is silly, immature, like a child or directed at children.

A teenager who still throws tantrums is an example of childish.
A woman who plays with dolls is an example of childish.
Dr. Suess is an example of a childish book writer.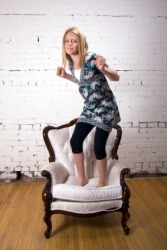 A girl behaviing in a childish manner.
---
childish definition by Webster's New World
adjective
of, like, or characteristic of a child
not fit for an adult; immature; silly
Origin: Middle English ; from Old English cildisc: see child and amp; -ish
Webster's New World College Dictionary Copyright © 2010 by Wiley Publishing, Inc., Cleveland, Ohio. Used by arrangement with John Wiley & Sons, Inc.
---
childish definition by American Heritage Dictionary
adjective
Of, relating to, or suitable for a child or childhood: a high, childish voice; childish nightmares.

a. Marked by or indicating a lack of maturity; puerile: tired of your childish pranks.

b. Not complicated; simple.

c. Affected mentally by old age; senile.
Related Forms: