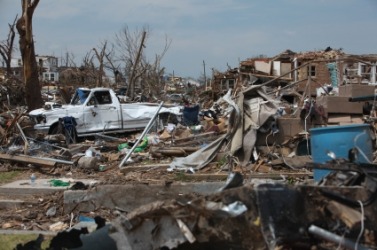 The calamity caused by a tornado.
noun
The definition of a calamity is an event that brings loss or a disaster.

An example of a calamity is a tornado.
---
calamity
noun
pl.
-·ties
deep trouble or misery
any extreme misfortune bringing great loss and sorrow; disaster
Origin of calamity
Middle French
calamité
from Classical Latin
calamitas
: see clastic
---
calamity
noun
pl.
ca·lam·i·ties
An event that brings terrible loss, lasting distress, or severe affliction; a disaster: A hurricane would be a calamity for this low-lying coastal region.
Dire distress resulting from loss or tragedy.
Origin of calamity
Middle English
calamite
from
Old French
from
Latin
calamitās
---
calamity

Origin
From Middle French calamité, from Latin calamitās ("loss, damage; disaster"), from clāmāre ("to shout, proclaim, declare, cry out").
---