catastrophe

ca·tas·tro·phe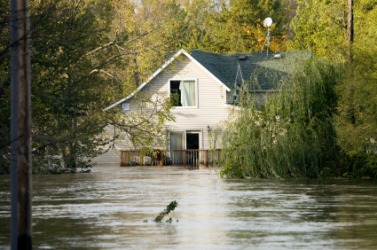 This flood is a catastrophe.
noun
The definition of a catastrophe is a large, often sudden, disaster or ending.

The Japan Earthquake of 2011 is an example of a catastrophe.
The story of Romeo and Juliet is an example of a catastrophe.
---
catastrophe
the culminating event of a drama, esp. of a tragedy, by which the plot is resolved; denouement
a disastrous end, bringing overthrow or ruin
any great and sudden calamity, disaster, or misfortune
a total or ignominious failure

Geol.

a sudden, violent change, such as an earthquake
Origin of catastrophe
Classical Latin
catastropha
from Classical Greek
katastroph?
, an overthrowing from
katastrephein
, to overturn from
kata-
, down +
strephein
, to turn: see strophe
---
catastrophe
noun
A great, often sudden calamity.
A complete failure; a fiasco: The food was cold, the guests quarreled—the whole dinner was a catastrophe.
The concluding action of a drama, especially a classical tragedy, following the climax and containing a resolution of the plot.
A sudden violent change in the earth's surface; a cataclysm.
Origin of catastrophe
Greek
katastrophē
an overturning, ruin, conclusion
from
katastrephein
to ruin, undo
kata-
cata-
strephein
to turn
; see
streb(h)-
in Indo-European roots.
---
catastrophe

Noun
(plural catastrophes)
Origin
From Ancient Greek καταστροφή (katastrophē), from καταστρέφω (katastrephō, "I overturn"), from κατά (kata, "down, against") + στρέφω (strephō, "I turn")
---