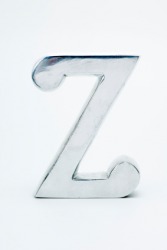 The letter Z.
noun
Z is the 26th letter in the English alphabet.

An example of Z is the letter that begins the word "zoo."
---
z
or Z
pl.
the twenty-sixth and last letter of the English alphabet: via Latin from the Greek zeta
any of the speech sounds that this letter represents, as, in English, the (z) of zone
a type or impression for z or Z
the twenty-sixth in a sequence or group
an object shaped like
⌂

Origin of z

see zzz

Slang

sleep: often in the phrase get (or catch, etc.) some (or one's) z's to sleep for a while
of z or Z
twenty-sixth in a sequence or group
shaped like
the third of a set of unknown quantities, x and y usually being the first two
a variable
Astron.

zenith distance
zepto-
zero
zone
Z
Astron.

zenith distance
zetta-
Z
atomic number

Elec.

impedance
---
z
or Z
noun
pl.
z's
or
Z's
also
zs
or
Zs
The 26th letter of the modern English alphabet.
Any of the speech sounds represented by the letter z.
The 26th in a series.
Something shaped like the letter Z.
z's Slang Sleep.
electronic stock ticker, Morgan Stanley Building
This message reader board in Times Square shows the stock prices of publicly traded companies.
Z
---
z
Letter
(lower case, upper case Z)
Suffix
-z
(urban slang) Used as a substitute for -s in marking the plural of nouns. Usually used in words in which the -s suffix is actually pronounced "z".

Boyz are always trouble.

(urban slang) Used as a substitute for -s in marking verb inflections.

He lovez me.
Symbol
(computing) The ASCII control character substitute in caret notation.
Prefix
(computer graphics) z-axis
---
z - Computer Definition
Zeta.The sixth letter of the Greek alphabet, written in the English alphabet as Z.
The symbol for impedance. See impedance.
The symbol for Zulu time. See Zulu time.
Zetta sextillion (10 21 ), or 1,000,000,000,000,000,000,000. See ZB.
In mathematics, the third of a set of unknown variables, with x and y being the first two unknowns. See also x, y, and z-axis.
One of the two letters, along with Q, that traditionally did not appear on a telephone dial or keypad.The thought was that Z could be confused with 2 and that Q could be confused with O. Z now appears with W, X, and Y on number 9. Alphanumeric dialing was, and remains, a North American practice. Telephones in most other countries do not sport letters.
---
A mathematical language used for developing the functional specification of a software program. Developed in the late 1970s at Oxford University, IBM's CICS software is specified in Z.
---