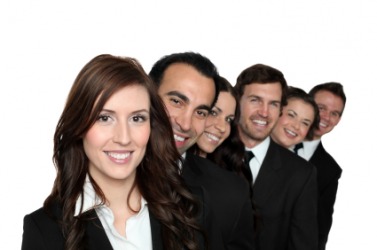 This woman stands before the others in line.
adverb
The definition of before is something that happened before another thing, or something that was in front of or before another.

An example of before is the person in front of you in line.
An example of before is when you have an appointment set for 2:00 and you first go get your hair done.
preposition
Before is defined as a previous time.

An example of before is when you are asked to do something prior to 7:00 PM.
---
before
in advance; in front; ahead
in the past; previously: I've heard that song before
at an earlier time; sooner: come at ten, not before
Origin of before
Middle English
biforen
from Old English
beforan
from
be-
, by +
foran,
fore
ahead of in time, space, order, rank, or importance
located just to the front of: he paused before the door
in or into the sight, notice, presence, etc. of: a thought flashed before her mind; he stood before his accuser
being considered, judged, or decided by: the matter before the committee
earlier than; prior to: he left before noon
still to be reached, accomplished, etc. by: the hardest task was before them
in preference to; rather than: to choose death before dishonor
earlier than the time that: drop in before you go
sooner than; rather than: I'd die before I'd tell
---
before
adverb
Earlier in time: They called me the day before.
In front; ahead.
preposition
Previous to in time; earlier than.
In front of.
In store for; awaiting: The young man's whole life lies before him.
Into or in the presence of: She asked that the visitor be brought before her.
Under the consideration or jurisdiction of: The case is now before the court.
In a position superior to: The prince is before his brother in the line of succession.
conjunction
In advance of the time when: See me before you leave.
Rather than; sooner than: I will die before I will betray my country.
Origin of before
Middle English
bifore
from
Old English
beforan
; see
per
1
in Indo-European roots.
---
before

Preposition
Earlier than (in time).

I want this done before Monday.

In front of in space.

He stood before me.
We sat before the fire to warm ourselves.

Under consideration, judgment, authority of (someone).

The case laid before the panel aroused nothing but ridicule.

In store for, in the future of (someone).
In front of, according to a formal system of ordering items.

In alphabetical order, "cat" comes before "dog", "canine" before feline".

At a higher or greater position in a ranking.

An entrepreneur puts market share and profit before quality, an amateur intrinsic qualities before economical considerations.
Adverb
(not comparable)
At an earlier time.

I've never done this before.

In advance.
At the front end.
Origin
From Middle English (adverb and preposition), from Old English beforan, itself from be- + foran 'before' (from fore)
---