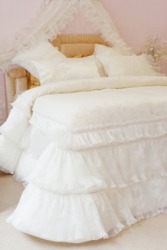 A bed made up with white bed linen or bedclothes.
---
bedding definition by Webster's New World
noun
mattresses and bedclothes
straw, grass, etc., used to bed animals
a bottom layer; base

Geol.

stratification
adjective
suitable for planting in a garden bed
Webster's New World College Dictionary Copyright © 2010 by Wiley Publishing, Inc., Cleveland, Ohio. Used by arrangement with John Wiley & Sons, Inc.
---
bedding definition by American Heritage Dictionary
noun
Bedclothes.
Material, especially straw, on which animals sleep.
A bottom layer; a foundation.
Geology Stratification of rocks into beds.
bedding
Variant of bed
noun
a thing for sleeping or resting on; specif., a piece of furniture consisting usually of a bedstead, bedspring, mattress, and bedding
bedstead
bedtime
any place used for sleeping or reclining
such a place regarded as the scene of sexual intercourse or procreation

a plot of soil where plants are raised
the flowers or vegetables growing in this

the bottom of a river, lake, etc.
a place on the ocean floor where something grows in abundance: oyster bed

an enclosing substance, as rock in which shells, minerals, etc. are lodged
any flat surface used as a foundation or support, as the earth, gravel, etc. under the rails and ties of a railroad

a layer of cement or mortar in which stone or brick is laid
the underside of a brick, slate, or tile

a pile or heap resembling a bed, esp. in softness or shape: a bed of leaves
a geologic layer; stratum: a bed of coal
☆ the flat surface on which cargo is placed, as in a pickup or flatbed
Origin: Middle English and amp; Old English ; from Indo-European base an unverified form bhedh-, to dig from source German bett, Classical Latin fossa, ditch, western bedd, Breton béz, a grave; origin, originally sense "a sleeping hollow in the ground"
transitive verb
bedded, bedding
to provide with a sleeping place
to put to bed
to have sexual intercourse with
to fix or place firmly; embed
to plant or arrange in a bed of earth
to make (earth) into a bed for plants
to lay out flat like a bed; arrange in layers
intransitive verb
to go to bed; rest; sleep
to form in layers; stratify