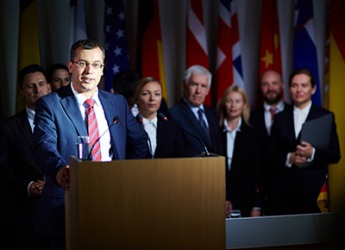 The politician had to make a public announcement to restore his reputation if he wanted a chance at winning the election after his opponent spread scurrilous lies about him.
adjective
The definition of scurrilous is something that is very abusive, or is scandalous and potentially harmful rumors spread to ruin someone's reputation.

A nasty, verbal, abusive attack on a teacher is an example of a scurrilous attack.
An untrue rumor spread for the purposes of making a politician look bad to voters is an example of something that would be described as scurrilous.
---
scurrilous
Archaic

characterized by indecent or abusive language; coarse; vulgar
maliciously insulting; slanderous, libelous, etc.
Origin of scurrilous
scurril(e) + -ous
---
scurrilous
adjective
Given to the use of vulgar, coarse, or abusive language.
Expressed in vulgar, coarse, or abusive language.
Of a malicious or slanderous nature; defamatory: "The law affords them wide First Amendment protection … even when they write scurrilous lies" ( Richard Curtis )
Related Forms:
---
scurrilous

Origin
From Latin scurrilis ("buffoon-like"), from scurra ("a buffoon").
---