abusive
[ə byo̵̅o̅′siv; also, -ziv]
adjective
The definition of abusive is something that is improperly used or someone that causes harm.

An example of abusive is a husband who hits his wife.
An example of abusive is the behavior of a child who bangs his new video game on the ground.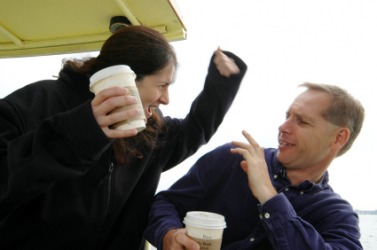 A woman acting in an abusive manner.
---
abusive
adjective
involving or characterized by abuse or misuse; abusing; mistreating
coarse and insulting in language; scurrilous; harshly scolding
Origin of abusive
French
abusif
; from Classical Latin
abusivus
; from
abusus
: see abuse
---
abusive
adjective
Characterized by improper or wrongful use: abusive utilization of public funds.
Using or containing insulting or hurtful language: finally reprimanded the abusive colleague.
Causing physical injury to another: abusive punishment.
Relating to or practicing sexual abuse.
Related Forms:
---
abusive
Adjective
(comparative more abusive, superlative most abusive)
Wrongly used; perverted; misapplied; unjust; illegal. [First attested in the mid 16th century.]

I am ... necessitated to use the word Parliament improperly, according to the abusive acceptation thereof. - Fuller

(archaic) Catachrestic. [First attested in the mid 16th century.]
(archaic) Full of abuses; practicing abuse; containing abuse, or serving as the instrument of abuse. [First attested in the late 16th century.]
Prone to ill treat by coarse, insulting words or by other ill usage; vituperative; reproachful; scurrilous. [First attested in the early 17th century.]

An abusive lampoon. - Samuel Johnson A dictionary of the English language

(archaic) Given to misusing; also, full of abuses.

The abusive prerogatives of his see. - Hallam

Being physically injurious; characterized by repeated violence.
---