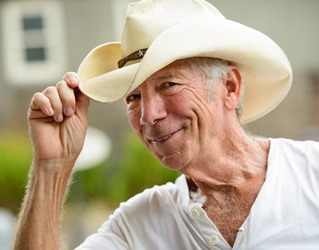 Pete is known to say, "Howdy" when he greets people and, "so long" when they depart.
adverb
Say means approximately or for example.

An example of say used as an adverb is to make a statement using the word "say" before the actual estimate such as, "That ice cream cone has, say, 700 calories," which means the ice cream cone has about 700 calories.
noun
The definition of a say is the right to speak or choose.

An example of a say is the right to vote in a school election.
verb
Say is defined as to speak or express in words.

An example of to say is to greet a friend "Hello."
---
say
transitive verb
to utter, pronounce, or speak
to express in words; state; declare; tell
to state positively, with assurance, or as an opinion: who can say what will be?
to indicate or show: the clock says ten
to recite; repeat: to say one's prayers
to estimate; assume; hypothesize: he is, I'd say, forty
to allege; report: people say he's angry
to communicate (an idea, feeling, etc.): a painting that says nothing
Origin of say
Middle English
seien
( from origin, originally 3d person; personal (grammar) singular , present tense indicative ),
seggen
from Old English
secgan
, akin to
sagu
, a saying, tale (ON
saga
), German
sagen
, to say from Indo-European base an unverified form
sekw-
, to note, see, show, say (from source see, Classical Latin
inseque
(imper.), tell!), origin, originally , to follow from source Classical Latin
sequi
to make a statement; speak; express an opinion
a chance to speak: to have one's say
power or authority, as to make or help make a final decision: often with the

Archaic

what a person says; dictum
for example: any fish, say perch
about; nearly: costing, say, 10 dollars
used to express surprise, admiration, etc., or to get someone's attention
go without saying
to be too obvious to need explanation; be self-evident
not to say
though some might say: a rhetorical phrase used to introduce and acknowledge a more forceful or extreme characterization than the one just used: a thorough, not to say pedantic, report
say what?
Informal
what did you say?
say when!
Informal
tell me when to stop!: said as when one is pouring another's drink
that is to say
in other words; that means
you can say that again!
Informal
I agree with you!
---
say
verb
said, say·ing, says,
verb
transitive
To utter aloud; pronounce: The children said, "Good morning."
To express in words: Say what's on your mind.

a. To state as an opinion or judgment; declare: I say let's eat out.

b. To state as a determination of fact: It's hard to say who is right in this matter.

c. To report or maintain; allege: It is said he is a fraud.

To repeat or recite: said grace.

a. To indicate; show: The clock says half past two.

b. To give nonverbal expression to; signify or embody: It was an act that said "devotion."

To suppose; assume: Let's say that you're right.
verb
intransitive
To make a statement or express an opinion or judgment: The story must be true because the teacher said so.
noun
A turn or chance to speak: Having had my say, I sat down.
The right or power to influence or make a decision: Citizens have a say in the councils of government. All I want is some say in the matter.
Archaic Something said; a statement.
adverb
Approximately: There were, say, 500 people present.
For instance: a woodwind, say an oboe.
interjection
Used to express surprise or appeal for someone's attention.
Origin of say
Middle English
seien
from
Old English
secgan
; see
sekw-
3
in Indo-European roots.
Related Forms:
---
say

Verb
(third-person singular simple present says, present participle saying, simple past and past participle said)
To pronounce.

Please say your name slowly and clearly.

To recite.

Martha, will you say the Pledge of Allegiance?

To communicate, either verbally or in writing.

He said he would be here tomorrow.

To indicate in a written form.

The sign says it's 50 kilometres to Paris.

(impersonal) To have a common expression; used in singular passive voice or plural active voice to indicate a rumor or well-known fact.

They say "when in Rome, do as the Romans do", which means "behave as those around you do."

(informal, imperative) Let's say; used to mark an example, supposition or hypothesis.

A holiday somewhere warm - Florida, say - would be nice.
Say he refuses. What do we do then?

(intransitive) To speak; to express an opinion; to make answer; to reply.
Origin
From Middle English seyen, seien, seggen, &c., from Old English secÄ¡an ("to say, speak"), from Proto-Germanic *sagjanÄ… ("to say"), from Proto-Indo-European *sekÊ·-, *sekÊ·e-, *skÊ·Ä"- ("to tell, talk"). Cognate with West Frisian sizze ("to say"), Dutch zeggen ("to say"), German sagen ("to say"), Swedish säga ("to say").
Adverb
(not comparable)
(colloquial) Used to gain one's attention before making an inquiry or suggestion

Say, what did you think about the movie?

For example; let us assume.

Pick a color you think they'd like, say, peach.
He was driving pretty fast, say, fifty miles per hour.
Conjunction
(informal) Used to introduce a hypothetical

Say your family is starving and you don't have any money, is it ok to steal some food?
Origin
Grammaticalization of the verb. In the case of the conjunction, it could be considered an elision of "Let's say that" and for the "for example" sense of "Let's say"
Verb
(third-person singular simple present says, present participle saying, simple past and past participle sayed)
Noun
(plural says)
Tried quality; temper; proof.
Essay; trial; attempt.
Origin
Aphetic form of assay.
---