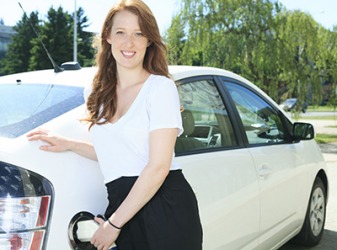 Saving money on gasoline is important to Mackenzie, so she purchased a hybrid car.
adjective
The definition of saving is something that rescues or is a good value.

An example of saving is a fuel efficient car using less gas; a fuel saving car.
noun
Saving is defined as the act of someone or something that rescues or frees, or something set aside for later use.

An example of a saving is one person rescuing another from drowing; the act of saving.
An example of a saving is setting aside $100 each month for a vacation; a vacation saving.
---
saving
that saves; specif.,
rescuing; preserving
economizing or economical
containing an exception; making a reservation: a saving clause
the act of one that saves
[often pl., with sing. v.] any reduction in expense, time, labor, etc.: a saving(s) of 10% is effected

anything saved
[pl.] sums of money saved

Law

a reservation; exception
with due respect for: saving your presence
with the exception of; except; save
---
saving
noun
Rescue from harm, danger, or loss.
Avoidance of excess expenditure; economy.
A reduction in expenditure or cost.
Something saved.

a. savings Money saved: a bank account for savings.

b. savings used with a sing. verb Usage Problem An amount of money saved: a rebate that yielded a savings of $50.

Law An exception or reservation.
preposition
With the exception of.
conjunction
Except; save.
Usage Note: Traditionalists state that one should use the form a saving when referring to an amount of money that is saved. Indeed, that is the form English speakers outside of the United States normally use. In the United States the plural form a savings is widely used with a singular verb (as in A savings of $50 is most welcome ). The widespread use of this construction has steadily eroded resistance to it. In our 2005 survey, only 37 percent of the Usage Panel found this sentence unacceptable. This was a considerable decrease from earlier surveys. In 1988, 57 percent rejected a savings, and in 1967, 89 percent rejected it.
---
saving

---