conservation
con·ser·va·tion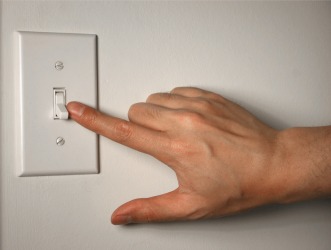 Turning off lights is an act of conservation.
noun
The definition of conservation is the act of trying to protect or preserve something or the limiting of how much of a resource you use.

An example of conservation is a program to try to preserve wetlands.
An example of conservation is a program to try to save old buildings.
An example of conservation is an attempt to minimize the amount of electricity you use by turning off lights when you leave a room.
---
conservation
the act or practice of conserving; protection from loss, waste, etc.; preservation
the official care, protection, or management of natural resources
the preservation, reconditioning, and restoration of works of art
Origin of conservation
Middle English
conservacioun
from Old French
conservation
from Classical Latin
conservatio
---
conservation
noun
The act or process of conserving.

a. Preservation or restoration from loss, damage, or neglect: manuscripts saved from deterioration under the program of library conservation.

b. The protection, preservation, management, or restoration of wildlife and of natural resources such as forests, soil, and water.

The maintenance of a physical quantity, such as energy or mass, during a physical or chemical change.
Related Forms:
con′ser·va′tion·al

adjective
---
conservation

Noun
(countable and uncountable, plural conservations)
The act of preserving, guarding, or protecting; the keeping (of a thing) in a safe or entire state; preservation.
A wise use of natural resources.
---