rambunctious

ram·bunc·tious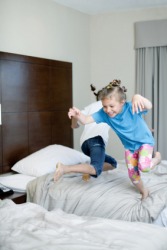 A pair of rambunctious children.
adjective
The definition of rambunctious is disorderly and load and wild.

An example of a rambunctious person is a child who runs around the house screaming and jumping on furniture all day.
---
rambunctious
wild, disorderly, boisterous, unruly, etc.
Origin of rambunctious
earlier
rambustious,
altered (prob. by associated, association with ram) from robustious
---
rambunctious
adjective
Boisterous and disorderly.
Origin of rambunctious
Alteration of
rumbustious
Related Forms:
---
rambunctious

Adjective
(comparative more rambunctious, superlative most rambunctious)
Energetic, noisy, boisterous and difficult to control.

The kids are being especially rambunctious today.
---