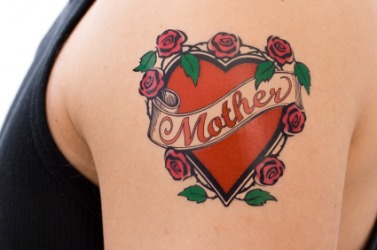 A tattoo is something that is permanent.
adjective
The definition of permanent is someone or something that is supposed to last for a very long time.

An example of something which is permanent is a tattoo.
---
permanent
lasting or intended to last indefinitely without change
lasting a relatively long time
Origin of permanent
Middle English from Middle French from Classical Latin
permanens,
present participle of
permanere
from
per,
through +
manere,
to remain: see manor
a hair wave that is produced as by applying chemical preparations and that remains even after the hair is washed
---
permanent
adjective
Lasting or remaining without essential change: "the universal human yearning for something permanent, enduring, without shadow of change" ( Willa Cather )
Not expected to change in status, condition, or place: a permanent address; permanent secretary to the president.
noun
Any of several long-lasting hair styles usually achieved by chemical applications that straighten, curl, or wave the hair.
Origin of permanent
Middle English
from
Old French
from
Latin
permanēns
permanent-
present participle of
permanēre
to endure
per-
throughout
; see
per-
.
manēre
to remain
; see
men-
3
in Indo-European roots.
Related Forms:
---
permanent

---