outgoing
[o̵ut′gō′iŋ]
adjective
The definition of outgoing is someone who is talkative, comfortable meeting others and friendly.

An example of someone outgoing is a very friendly bartender.

Outgoing means something that is departing.

An example of outgoing is the train leaving the train station.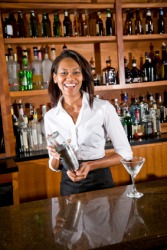 An outgoing bartender.
---
outgoing
adjective
going out; leaving
retiring from office

expansive, friendly, etc.: an outgoing personality
noun
the act of going out

Brit.

an outlay; expenses
---
outgoing
adjective
a. Going out or away; departing: an outgoing passenger train.

b. Retiring from or relinquishing a place, position, or office: the outgoing chairperson.

c. Addressed for sending: outgoing mail.

Sociable and responsive to others; friendly: a warm, outgoing personality.
Intended to be taken out, as from a restaurant: outgoing orders of Chinese food.
Related Forms:
---
outgoing
Adjective
(comparative more outgoing, superlative most outgoing)
Comfortable in social settings and interactions; confident in dealing with people especially in meeting new people; gregarious.

Tom is very outgoing and enjoys meeting people; his brother, on the other hand, is painfully shy.

(not comparable) Going out, on its way out.

Is there any outgoing post?

(not comparable) Being replaced in office (while still in office but after election has determined that he/she will be replaced).

The outgoing politician wasn't too disappointed he'd lost the election; he was tired of political infighting.
Noun
(plural outgoings)
(chiefly in the plural) Money that leaves one's possession; expenditure, outlay, expense
The extreme limit; the place of ending.
Verb
Present participle of outgo.
---
outgoing
Variant of outgo
noun
pl.
outgoes
the act of going out
that which goes or is paid out; outflow or expenditure