outgoing

out·go·ing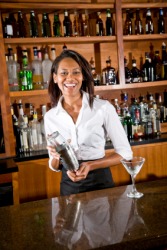 An outgoing bartender.
adjective
Outgoing means something that is departing.

An example of outgoing is the train leaving the train station.

The definition of outgoing is someone who is talkative, comfortable meeting others and friendly.

An example of someone outgoing is a very friendly bartender.
---
outgoing
going out; leaving
retiring from office

expansive, friendly, etc.: an outgoing personality
the act of going out
[usually pl.]

Brit.

an outlay; expenses
---
outgoing
adjective
a. Going out or away; departing: an outgoing passenger train.

b. Retiring from or relinquishing a place, position, or office: the outgoing chairperson.

c. Addressed for sending: outgoing mail.

Sociable and responsive to others; friendly: a warm, outgoing personality.
Intended to be taken out, as from a restaurant: outgoing orders of Chinese food.
Related Forms:
---
outgoing

---