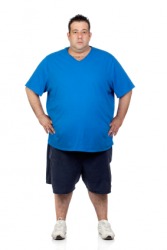 This man is obese.
adjective
The definition of obese is an extremely overweight person.

An example of obese is a five hundred pound man.
---
obese
very fat; stout; corpulent
Origin of obese
Classical Latin
obesus,
past participle of
obedere,
to devour from
ob-
(see ob-) +
edere,
eat
---
obese
adjective
Having excessive body weight caused by the accumulation of fat; extremely fat. See Synonyms at
fat
.
Origin of obese
Latin
obēsus
from past participle of
*obedere
to eat away
ob-
away
; see
ob-
.
edere
to eat
; see
ed-
in Indo-European roots.
Related Forms:
---
obese

Adjective
(comparative more obese, superlative most obese)
Extremely overweight, especially: weighing more than 20% (for men) or 25% (for women) over their ideal weight determined by height and build; or, having a body mass index over 30 kg/m2.
---