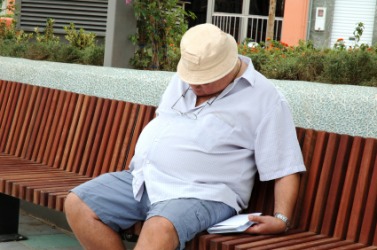 A man suffering with obesity.
noun
Obesity is defined as being overweight, having too much fat on your body and a Body Mass Index (BMI) over 30.

Reasons for Obesity in America

Population is eating more calories than used by the body because of eating high fat foods and reduced physical activity
Widespread availability of processed foods with minimal nutritional value

Decreased emphasis placed on daily physical activity

Medications, such as antidepressants, contraceptives, diabetes drugs, and substances used to control blood pressure, often cause weight gain as an unintended side effect.
Environmental groups hypothesize that the pollutants in our environment are impacting the hormones which control body weight.
Studies have shown people who regularly get less than eight hours of sleep each night are more likely to be obese.
American women are generally waiting longer to begin having children, and older mothers are more likely to give birth to children with weight problems.
Middle aged people and those of Hispanic descent are statistically more likely to struggle to maintain a healthy body weight. The United States is becoming older and more ethnically diverse.

Medical Risks of Obesity

Diabetes
Sleep apnea
High blood pressure
Stroke
Heart attack
Heart failure
Prostate cancer
Colon cancer
Osteoarthritis

An example of obesity is a person with a Body Mass Index (BMI) over 30.
---
obesity
noun
The condition of being obese; increased body weight caused by excessive accumulation of fat.
---
obesity

Noun
(uncountable)
The state of being obese due to an excess of body fat.
---