adjective
The definition of messy is something that is disorderly or dirty.

An example of something messy is a teenager's bedroom.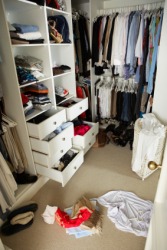 A very messy closet.
---
messy
---
messy
adjective
mess·i·er
,
mess·i·est
a. Disorderly and dirty: a messy bedroom.

b. Given to making messes; not neat or organized: a messy roommate.

Exhibiting or demonstrating carelessness: messy reasoning.
Unpleasantly difficult to settle or resolve: a messy court case.
Related Forms:
---
messy
Adjective
(comparative messier, superlative messiest)
(of a place, &c.) In a disorderly state; chaotic; disorderly.

a messy office

(of a situation) Difficult or unpleasant to deal with.

a messy divorce
Origin
From mess +‎ -y.
---