adjective
The definition of messy is something that is disorderly or dirty.

An example of something messy is a teenager's bedroom.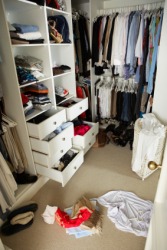 A very messy closet.
---
messy definition by Webster's New World
---
messy definition by American Heritage Dictionary
adjective
mess·i·er
,
mess·i·est
Disorderly and dirty: a messy bedroom.
Exhibiting or demonstrating carelessness: messy reasoning.
Unpleasantly difficult to settle or resolve: a messy court case.
Related Forms: