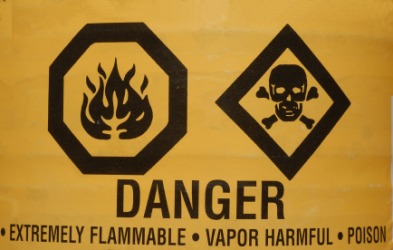 A sign warning of things that might be lethal.
adjective
The definition of lethal is something very harmful or destructive, especially something that could cause death.

A gun shot wound is an example of something that could be described as a lethal wound.
---
lethal
causing or capable of causing death; fatal or deadly
Origin of lethal
Classical Latin
letalis, lethalis
from
letum
, death: see let
---
lethal
adjective
Causing or capable of causing death: a lethal weapon. See Synonyms at fatal.
Extremely harmful; devastating: accusations lethal to the candidate's image.
Origin of lethal
Late Latin
lēthālis
alteration
(
probably influenced by
Lēthē
Lethe
)
of
Latin
lētālis
from
lētum
death
Related Forms:
---
lethal

Origin
From Latin lÄ"tālis ("mortal, deadly"), improperly written lethalis, from letum ("death"), improperly written as lethum, as associated with Greek λήθη (lethe, "forgetfulness").
Noun
(uncountable)
(chemistry) One of the higher alcohols of the paraffine series obtained from spermaceti as a white crystalline solid.
Origin
Abbreviation of "lauric acid ethereal salt", so called because it occurs in the ethereal salt of lauric acid.
---