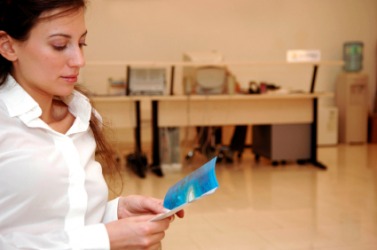 A woman reading a leaflet.
noun
The definition of a leaflet is a section of leaf, or a piece of printed paper that is handed out.

An example of a leaflet is one of the segments of a soybean leaf.
An example of a leaflet is a promotional flier for a new cafe in town.
---
leaflet
one of the divisions of a compound leaf
a small or young leaf
a separate sheet of printed matter, often folded but not stitched
transitive verb
intransitive verb
-·leted

or

-·let·ted

,

-·let·ing

or

-·let·ting
to distribute leaflets to (people in public places)
---
leaflet
noun
One of the segments of a compound leaf.
A small leaf or leaflike part.
A printed, usually folded handbill or flier intended for free distribution.
verb
leaf·let·ed, leaf·let·ing, leaf·lets,
also
leaf·let·ted
leaf·let·ting
verb
intransitive
To hand out leaflets.
verb
transitive
To hand out leaflets to or in: leafleted the morning commuters; leaflet a neighborhood.
---
leaflet

Verb
(third-person singular simple present leaflets, present participle leafleting, simple past and past participle leafleted)
To distribute leaflets to.

A sidewalk preacher gave an impassioned sermon while an assistant leafleted those who stayed to listen.

(intransitive) To distribute leaflets.

During the summer, Peter earned some extra cash by leafleting for a local pizza delivery restaurant.
Usage notes
The inflected forms leafletted and leafletting are sometimes seen, but the correctly formed inflections leafleted and leafleting are preferred.
---