valve

valve
noun
The definition of a valve is a device that opens or closes to let things through or to prevent passage.

The part of your heart that opens and closes to let blood enter or to prevent blood from entering is an example of a valve.
---
valve
Archaic

either of the halves of a double door or any of the leaves of a folding door
a gate regulating the flow of water in a sluice, channel, etc.

Anat.

a membranous fold or structure which permits bodily fluids to flow in one direction only, or opens and closes a tube, chamber, etc.

Bot.

any of the segments into which a pod or capsule separates when it bursts open
a lidlike part in some anthers, through which pollen is discharged
either of the boxlike halves forming the cell walls of a diatom

Electronics

a device, esp. a rectifier, that allows current to flow in only one direction

Brit.

electron tube

Mech.

any device in a pipe or tube that permits a flow in one direction only, or regulates the flow of whatever is in the pipe, by means of a flap, lid, plug, etc. acting to open or block passage
the flap, lid, plug, etc.

Music

a device in certain brass instruments, as the trumpet, that opens (or closes) an auxiliary to the main tube, lengthening (or shortening) the air column and lowering (or raising) the pitch

Zool.

each separate part making up the shell of a mollusk, barnacle, etc.
any of the parts forming the sheath of an ovipositor in certain insects
Origin of valve
ME, a door leaf from Classical Latin
valva,
leaf of a folding door, akin to
volvere,
to roll: see walk; valvesenses , , from Modern Latin
valva
from Classical Latin
---
valve
noun
a. Any of various devices that regulate the flow of gases, liquids, or loose materials through piping or through apertures by opening, closing, or obstructing ports or passageways.

b. The movable control element of such a device.

c. A device in a brass wind instrument that can be opened or closed to change the pitch by altering the length of the air column in the tube.

Anatomy A membranous structure in a hollow organ or passage, as in an artery or vein, that folds or closes to prevent the return flow of the body fluid passing through it.
Biology

a. A piece of shell covering or enclosing certain mollusks or other invertebrates, especially the single one of a univalve mollusk or one of the paired hinged ones of a bivalve mollusk or brachiopod.

b. One of the two siliceous halves of the cell wall of a diatom.

One of the pieces into which a plant part splits at maturity, especially a segment of a fruit capsule or of certain anthers.
Chiefly British An electron tube or a vacuum tube.
Archaic Either half of a double or folding door.
transitive verb
valved, valv·ing, valves
To provide with a valve.
To control by means of a valve.
Origin of valve
Middle English
leaf of a door
from
Latin
valva
; see
wel-
2
in Indo-European roots.
Related Forms: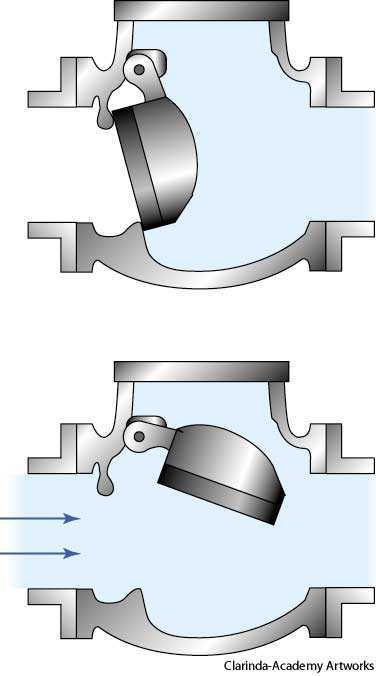 valve
top: closed check valve
bottom: open check valve
---
valve

Noun
(plural valves)
A device that controls the flow of a gas or fluid through a pipe.
A device that admits fuel and air into the cylinder of an internal combustion engine, or one that allows combustion gases to exit.
(anatomy) One or more membranous partitions, flaps, or folds, which permit the passage of the contents of a vessel or cavity in one direction, but stop or retard the flow in the opposite direction; as, the ileocolic, mitral, and semilunar valves.
(UK) A vacuum tube.
(botany) One of the pieces into which certain fruits naturally separate when they dehisce.
(botany) A small portion of certain anthers, which opens like a trapdoor to allow the pollen to escape, as in the barberry.
(biology) One of the pieces or divisions of bivalve or multivalve shells.
(biology) One of the two similar portions of the shell of a diatom.
Verb
(third-person singular simple present valves, present participle valving, simple past and past participle valved)
To control (flow) by means of a valve.
---