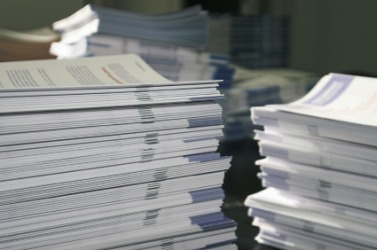 Stacks of pamphlets.
noun
The definition of a pamphlet is a type of advertising or informational material consisting of a small leaflet or booklet.

A flyer providing information about a politician's beliefs or a leaflet advertising a new vacuum cleaner are examples of a pamphlet.
---
pamphlet
a small, thin, unbound book made up of sheets of paper stapled or stitched together and usually having a paper cover
something published in this form, usually on some topic of current interest
Origin of pamphlet
Middle English
pamfilet
from Old French
Pamphilet,
diminutive of Medieval Latin
Pamphilus,
short for
Pamphilus, seu de Amore,
Pamphilus, or on Love, title of 12th-c. Medieval Latin amatory poem
---
pamphlet
noun
An unbound printed work, usually with a paper cover.
A short essay or treatise, usually on a current topic, published without a binding.
Origin of pamphlet
Middle English
pamflet
from
Medieval Latin
pamfletus
from
Pamphiletus
diminutive of
Pamphilus
amatory Latin poem of the 1100s
from
Greek
pamphilos
beloved by all
pan-
pan-
philos
beloved
Related Forms:
---
pamphlet

Noun
(plural pamphlets)
A small booklet of printed informational matter, often unbound, having only a paper cover.
Origin
From New Latin panfletus ("small, unbound treatise")
---