noun
The definition of a bulletin is a brief, official statement, or a regular publication.

An example of a bulletin is a news announcement on the television.
An example of a bulletin is a church's weekly newsletter.
verb
Bulletin means to announce or give a brief, formal statement in a speech or publication.

An example of bulletin is for a mayor to make a speech and announce a new town law.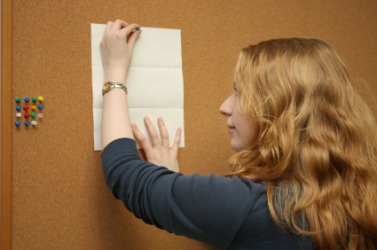 A woman posting a bulletin on a bulletin board.
---
bulletin definition by Webster's New World
noun
a brief official statement about a matter of public concern
a brief statement of the latest news, as in a newspaper or on radio or TV
a regular publication, as for the members of some society
Origin: French ; from Italian bulletino, diminutive of Late Latin bulla: see bull
transitive verb
to announce or publish in a bulletin
Webster's New World College Dictionary Copyright © 2010 by Wiley Publishing, Inc., Cleveland, Ohio. Used by arrangement with John Wiley & Sons, Inc.
---
bulletin definition by American Heritage Dictionary
noun
A brief report, especially an official statement on a matter of public interest issued for immediate publication or broadcast.
A brief update or summary of current news, as on television or radio or in a newspaper.
A periodical, especially one published by an organization or society.
A printed program, especially one listing the order of worship for a religious service: a church bulletin.
transitive verb
bul·le·tined
,
bul·le·tin·ing
,
bul·le·tins
To announce or make known by bulletin.
Origin: French, probably from Italian bullettino, diminutive of bolletta, bill, diminutive of bolla, bubble, bull, from Medieval Latin bulla; see Bull 2.