jazz

jazz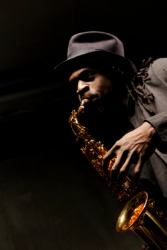 A jazz musician playing a saxophone.
noun
Jazz is defined as a style of music originated by black Americans that has a forceful rhythm and that often uses instruments like trumpets, a string bass and a saxophone.

An example of jazz is the music of Louis Armstrong.
---
jazz
a kind of music, originally improvised but now also arranged, characterized by syncopation, rubato, usually heavily accented rhythms, dissonances, individualized melodic variations, and unusual tonal effects on the trumpet, trombone, clarinet, saxophone, etc.: it originated with Southern blacks in the late 19th cent.

Slang

a quality reminiscent of jazz music; lively spirit

Slang

remarks, acts, concepts, etc. regarded as hypocritical, tiresome, trite, pretentious, etc.: the same old jazz
Origin of jazz
etymology uncertain : from uncertain or unknown; perhaps Creole patois
jass
, sexual term applied to the Congo dances (New Orleans)
of, in, like, or having to do with jazz
to speed up

Slang

to fill with jazz qualities; make exciting or elaborate; enliven or embellish: usually with up
Slang
to move or behave in a lively or carefree way
and all that jazz
Informal
and so forth; et cetera
---
jazz
noun
Music

a. A style of music, native to America, characterized by a strong but flexible rhythmic understructure with solo and ensemble improvisations on basic tunes and chord patterns and, more recently, a highly sophisticated harmonic idiom.

b. Big band dance music.

Slang

a. Animation; enthusiasm.

b. Nonsense.

c. Miscellaneous, unspecified things: brought the food and all the jazz to go with it.
verb
jazzed, jazz·ing, jazz·es
verb
transitive
Music To play in a jazz style.
Slang

a. To utter exaggerations or lies to: Don't jazz me.

b. To give great pleasure to; excite: The surprise party jazzed the guest of honor.

c. To cause to accelerate.
verb
intransitive
Slang
To exaggerate or lie.
Phrasal Verbs:
jazz up
Slang
To make more interesting; enliven:
jazzed up the living area with beaded curtains.
Origin of jazz
Originally, vim, vigor, pep, copulation, semen
perhaps shortening of
earlier
jasm
vim, vigor
and akin to
jism
Related Forms:
---
jazz

Noun
(uncountable)
(music) A musical art form rooted in West African cultural and musical expression and in the African American blues tradition, with diverse influences over time, commonly characterized by blue notes, syncopation, swing, call and response, polyrhythms and improvisation.
Energy, excitement, excitability. Very lively.
The (in)tangible substance that goes into the makeup of a thing.

What jazz were you referring to earlier?
What is all this jazz lying around?

Unspecified thing(s).

I'm just going down to the shops and jazz = I am off to purchase items and etcetera.

(with positive terms) Of excellent quality, the genuine article.

That show was the jazz! = That musical concert/television program was most enjoyable.
This risotto is simply the jazz. = This risotto was cooked in the classic manner.

Nonsense.

Stop talking jazz.
Verb
(third-person singular simple present jazzes, present participle jazzing, simple past and past participle jazzed)
To play jazz music.
To dance to the tunes of jazz music.
To enliven, brighten up, make more colourful or exciting; excite
To complicate.

Don't jazz it too much! = Be careful, it was good to start with!

(US slang, dated) To have sex with.
To destroy.

You've gone and jazzed it now! = It is ruined.

To distract/pester.

Stop jazzing me! = Leave me alone.
Origin
Etymology uncertain. A detailed account is available in the Wikipedia article.
---
jazz - Computer Definition
An integrated Macintosh software package from Lotus. Modeled after Symphony, it never caught on.
---