noun
Jazz is defined as a style of music originated by black Americans that has a forceful rhythm and that often uses instruments like trumpets, a string bass and a saxophone.

An example of jazz is the music of Louis Armstrong.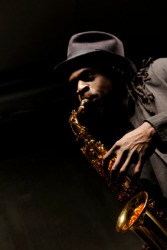 A jazz musician playing a saxophone.
---
jazz definition by Webster's New World
☆
noun
a kind of music, originally improvised but now also arranged, characterized by syncopation, rubato, usually heavily accented rhythms, dissonances, individualized melodic variations, and unusual tonal effects on the trumpet, trombone, clarinet, saxophone, etc.: it originated with Southern blacks in the late 19th cent.

Slang

a quality reminiscent of jazz music; lively spirit

Slang

remarks, acts, concepts, etc. regarded as hypocritical, tiresome, trite, pretentious, etc.
Origin: etymology uncertain : ; from uncertain or unknown; perhaps Creole patois jass, sexual term applied to the Congo dances (New Orleans)
adjective
of, in, like, or having to do with jazz
transitive verb
to speed up

Slang

to fill with jazz qualities; make exciting or elaborate; enliven or embellish: usually with up
intransitive verb
Slang
to move or behave in a lively or carefree way
Webster's New World College Dictionary Copyright © 2010 by Wiley Publishing, Inc., Cleveland, Ohio. Used by arrangement with John Wiley & Sons, Inc.
---
jazz definition by American Heritage Dictionary
noun
Music

a. A style of music, native to America, characterized by a strong but flexible rhythmic understructure with solo and ensemble improvisations on basic tunes and chord patterns and, more recently, a highly sophisticated harmonic idiom.

b. Big band dance music.

Slang

a. Animation; enthusiasm.

b. Nonsense.

c. Miscellaneous, unspecified things: brought the food and all the jazz to go with it.
verb
jazzed
,
jazz·ing
,
jazz·es
verb
, transitive
Music To play in a jazz style.
Slang

a. To exaggerate or lie to: Don't jazz me.

b. To give great pleasure to; excite: The surprise party jazzed the guest of honor.

c. To cause to accelerate.
verb
, intransitive
Slang
To exaggerate or lie.
Phrasal Verb:
jazz up
Slang
To make more interesting; enliven:
jazzed up the living area with beaded curtains.
Origin: Origin unknown.
Related Forms:
The American Heritage® Dictionary of the English Language, 4th edition Copyright © 2010 by Houghton Mifflin Harcourt Publishing Company. Published by Houghton Mifflin Harcourt Publishing Company. All rights reserved.
---
jazz - Computer Definition
An integrated Macintosh software package from Lotus. Modeled after Symphony, it never caught on.
Computer Desktop EncyclopediaTHIS DEFINITION IS FOR PERSONAL USE ONLYAll other reproduction is strictly prohibited without permission from the publisher.© 1981-2014 The Computer Language Company Inc. All rights reserved.
---
jazz - Cultural Definition
A form of American music that grew out of African-Americans' musical traditions at the beginning of the twentieth century. Jazz is generally considered a major contribution of the United States to the world of music. It quickly became a form of dance music, incorporating a "big beat" and solos by individual musicians. For many years, all jazz was improvised and taught orally, and even today jazz solos are often improvised. Over the years, the small groups of the original jazz players evolved into the "Big Bands" (led, for example, by Duke Ellington, Count Basie, and Glenn Miller), and finally into concert ensembles. Other famous jazz musicians include Louis Armstrong, Benny Goodman, and Ella Fitzgerald.