illumination

il·lu·mi·na·tion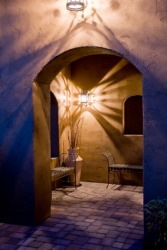 This porch light provides illumination.
noun
The definition of an illumination is the act or process of making something clearer or brighter or a device for doing so.

An example of an illumination is an explanation.
An example of an illumination is a bright porch lamp.
---
illumination
an illuminating or being illuminated; specif.,

a lighting up; supplying of light
clarification; explanation
enlightenment; instruction
decoration with lights
decoration of manuscripts with designs, colors, etc.

Physics

the intensity of light per unit of area
the designs, tracings, etc. used in decorating manuscripts
decorative lighting, as for a city
Origin of illumination
Middle English
illumynacyon
from Old French
illumination
from Late Latin
illuminatio
---
illumination
noun
a. The act of illuminating.

b. The state of being illuminated.

A source of light.
Decorative lighting.
Spiritual or intellectual enlightenment.
Clarification; elucidation.

a. The art or act of decorating a text, page, or initial letter with ornamental designs, images, or lettering.

b. An example of this art.

Physics The luminous flux per unit area at any point on a surface exposed to incident light. Also called illuminance .
illumination
folio from the 14th-century illuminated manuscript Jami' al-tawarikh by Rashid al-Din (1247-1318)
---
illumination

Noun
(plural illuminations)
The act of illuminating, or supplying with light; the state of being illuminated.
Festive decoration of houses or buildings with lights.
Adornment of books and manuscripts with colored illustrations. See illuminate (transitive verb).
Origin
From Middle French illumination, from Latin illuminatio
---