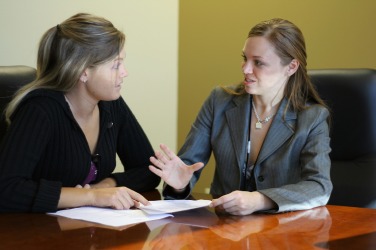 Two women having a dialogue.
noun
The definition of dialogue is conversation, or an exchange of ideas.

An example of dialogue is two people talking with one another.
---
dialogue
a talking together; conversation
interchange and discussion of ideas, esp. when open and frank, as in seeking mutual understanding or harmony
a literary work in the form of a conversation on a single topic
the passages of talk in a play, story, etc.
Origin of dialogue
Middle English
dialog
from Old French
dialogue
from Classical Latin
dialogus
from Classical Greek
dialogos
from
dialegesthai
: see dialect
intransitive verb
-·logued·

,

-·logu·ing
to hold a conversation
---
dialogue
or di·a·log
noun
a. A conversation between two or more people.

b. A discussion of positions or beliefs, especially between groups to resolve a disagreement.

a. Conversation between characters in a drama or narrative.

b. The lines or passages in a script that are intended to be spoken.

A literary work written in the form of a conversation: the dialogues of Plato.
Music A composition or passage for two or more parts, suggestive of conversational interplay.
verb
di·a·logued, di·a·logu·ing, di·a·logues,
or
di·a·loged
di·a·log·ing
di·a·logs
verb
transitive
To express as or in a dialogue: dialogued parts of the story.
verb
intransitive
To engage in a dialogue.
Origin of dialogue
Middle English
dialog
from
Old French
dialogue
from
Latin
dialogus
from
Greek
dialogos
conversation
from
dialegesthai
to discuss
; see
dialect
.
Related Forms:
Usage Note: Although use of the verb dialogue meaning "to engage in an exchange of views" is widespread, the Usage Panel has little affection for it. In our 2009 survey, 80 percent of the Panel rejected the sentence The department was remiss in not trying to dialogue with representatives of the community before hiring new officers. This represents some erosion of the 98 percent who rejected this example in 1988, but resistance is still very strong. A number of Panelists felt moved to comment on the ugliness or awkwardness of the construction.
---
dialogue

Noun
(plural dialogues)
A conversation or other form of discourse between two or more individuals.

Bill and Melinda maintained a dialogue via email over the course of their long-distance relationship.

In a dramatic or literary presentation, the verbal parts of the script or text; the verbalizations of the actors or characters.

The movie had great special effects, but the dialogue was lackluster.

A literary form, where the presentation resembles a conversation.

A literary historian, she specialized in the dialogues of ancient Greek philosophers.

(computing) A dialogue box.

Once the My Computer dialogue opens, select Local Disk (C:), then right click and scroll down.
Verb
(third-person singular simple present dialogues, present participle dialoguing, simple past and past participle dialogued)
(informal, business) To discuss or negotiate so that all parties can reach an understanding.

Pearson wanted to dialogue with his overseas counterparts about the new reporting requirements.
Origin
From Old French dialoge (French dialogue), from Late Latin dialogus, from Ancient Greek διάλογος (dialogos, "conversation, discourse"), from διά (dia, "through, inter") + λόγος (logos, "speech, oration, discourse"), from διαλέγομαι (dialegomai, "to converse"), from διά (dia) + λέγειν (legein, "to speak").
See also:
dialogué
---