noun
The definition of dialogue is conversation, or an exchange of ideas.

An example of dialogue is two people talking with one another.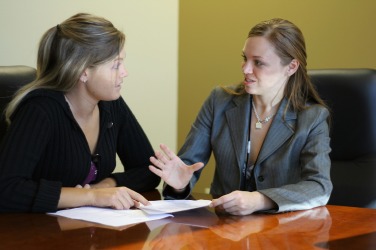 Two women having a dialogue.
---
dialogue definition by Webster's New World
noun
a talking together; conversation
interchange and discussion of ideas, esp. when open and frank, as in seeking mutual understanding or harmony
a literary work in the form of a conversation on a single topic
the passages of talk in a play, story, etc.
Origin: Middle English dialog ; from Old French dialogue ; from Classical Latin dialogus ; from Classical Greek dialogos ; from dialegesthai: see dialect
transitive verb
to express in dialogue
Webster's New World College Dictionary Copyright © 2010 by Wiley Publishing, Inc., Cleveland, Ohio. Used by arrangement with John Wiley & Sons, Inc.
---
dialogue definition by American Heritage Dictionary
or di·a·log
noun
A conversation between two or more people.

a. Conversation between characters in a drama or narrative.

b. The lines or passages in a script that are intended to be spoken.

A literary work written in the form of a conversation: the dialogues of Plato.
Music A composition or passage for two or more parts, suggestive of conversational interplay.
An exchange of ideas or opinions: achieving constructive dialogue with all political elements.
verb
di·a·logued
or
di·a·loged
,
di·a·logu·ing
or
di·a·log·ing
,
di·a·logues
or
di·a·logs
verb
, transitive
To express as or in a dialogue.
verb
, intransitive
To converse in a dialogue.
Usage Problem To engage in an informal exchange of views.
Origin: Middle English dialog, from Old French dialogue, from Latin dialogus, from Greek dialogos, conversation, from dialegesthai, to discuss; see dialect.
Related Forms:
Usage Note:
In recent years the verb sense of
dialogue
meaning "to engage in an informal exchange of views" has been revived, particularly with reference to communication between parties in institutional or political contexts. Although Shakespeare, Coleridge, and Carlyle used it, this usage today is widely regarded as jargon or bureaucratese. Ninety-eight percent of the Usage Panel rejects the sentence
Critics have charged that the department was remiss in not trying to dialogue with representatives of the community before hiring the new officers.