cloister

clois·ter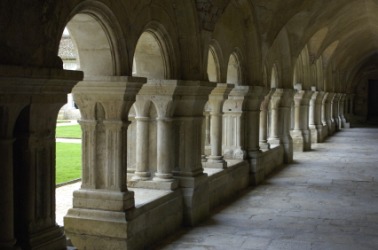 The cloister of a French monastery.
noun
The definition of a cloister is a secluded monastery or any place of seclusion.

A secluded place where monks or nuns live is an example of a cloister.
verb
To cloister is to seclude or shut in.

When you seclude your children inside your home and discourage them from leaving, this is an example of cloister.
---
cloister
a place of religious seclusion: monastery or convent
monastic life
any place where one may lead a secluded life
an arched way or covered walk along the inside wall or walls of a monastery, convent, church, or college building, with a columned opening along one side leading to a courtyard or garden
Origin of cloister
Middle English from Old French
cloistre
and Old English
clauster,
both from Ecclesiastical Medieval Latin
claustrum,
portion of monastery closed off to the laity from L, a bolt, place shut in from past participle of
claudere,
to close
to seclude or confine in or as in a cloister
to furnish or surround with a cloister
---
cloister
noun
a. A quadrangle enclosed by an open colonnade and a covered walk.

b. The covered walk enclosing such a quadrangle.

a. A place, especially a monastery or convent, devoted to religious seclusion.

b. Life in a monastery or convent.

A secluded, quiet place.
transitive verb
clois·tered, clois·ter·ing, clois·ters
To shut away from the world in or as if in a cloister; seclude.
To furnish (a building) with a cloister.
Origin of cloister
Middle English
cloistre
from
Old French
alteration
(
influenced by
cloison
partition
)
of
clostre
from
Latin
claustrum
enclosed place
from
claudere
to close
cloister
Royal Cloister at the Monastery of Santa Maria da Vitória, also known as the Batalha Monastery Batalha, Portugal
---
cloister

---