noun
The definition of an aisle is a passageway between different sections.

An example of an aisle is the location where a priest and the altar servers walk down at the beginning of a Catholic Mass.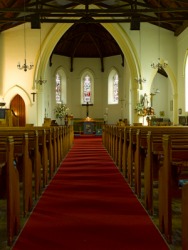 The aisle running between rows of seats in a church.
---
aisle definition by Webster's New World
noun
a part of a church alongside the nave, choir, or transept, set off by a row of columns or piers
a passageway between sections of seats in rows
a narrow passageway, as between rows of trees
Origin: Middle English ile ; from Old French aile, wing, section of a building (see aileron); eastern; English -s- through confusion with isle
Webster's New World College Dictionary Copyright © 2010 by Wiley Publishing, Inc., Cleveland, Ohio. Used by arrangement with John Wiley & Sons, Inc.
---
aisle definition by American Heritage Dictionary
noun
A part of a church divided laterally from the nave by a row of pillars or columns.
A passageway between rows of seats, as in an auditorium or an airplane.
A passageway for inside traffic, as in a department store, warehouse, or supermarket.
Origin: Alteration (influenced by isle and French aile, wing) of Middle English ele, from Old French, wing of a building, from Latin āla.