interjection
Gangway is defined as a phrase used to clear a walkway through a crowded area.

An example of gangway is what security would say at a concert where medical personnel need to get through.
noun
The definition of a gangway is a passage way.

An example of gangway is the landing used by passengers to board or exit ships.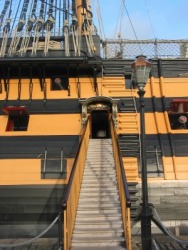 A gangway leading to an old sailing ship.
---
gangway definition by Webster's New World
noun
a passageway for entering, leaving, or going past

an opening in a vessel's bulwarks or railing that allows passage on or off
gangplank

a main level in a mine
☆ an incline for logs, leading up to a sawmill

Brit.

a passageway between rows of seats; aisle; specif., in the House of Commons, the aisle separating frontbenchers from backbenchers
Origin: Old English gangweg, thoroughfare (; from gang, in obsolete sense "a going" and amp; way)
interjection
make room; clear the way
Webster's New World College Dictionary Copyright © 2010 by Wiley Publishing, Inc., Cleveland, Ohio. Used by arrangement with John Wiley & Sons, Inc.
---
gangway definition by American Heritage Dictionary
noun
Nautical

a. A passage along either side of a ship's upper deck.

c. An opening in the bulwark of a ship through which passengers may board.

A narrow passageway, as of boards laid on the ground.
The main level of a mine.
Chiefly British

a. The aisle that divides the front and rear seating sections of the House of Commons.

b. An aisle between seating sections, as in a theater.
interjection
Used to clear a passage through a crowded area.
Origin: From gang1, way, passage (obsolete and dialectal).