gang

gang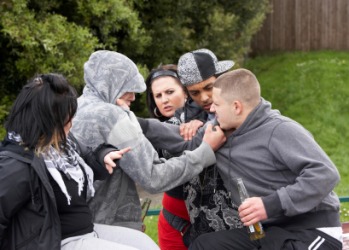 Gang members fighting.
noun
The definition of a gang is a group of people who spend a lot of time together, often for negative purposes such as stealing or attacking others.

An example of a gang is a group of youths who frequently rob stores and beat up others.
---
gang
a group of people associated together in some way; specif.,

a group of workers directed by a foreman
an organized group of criminals
a squad of convicts at work
a group of youths from one neighborhood banded together for social reasons; often specif., a band of juvenile delinquents

a set of like tools, machines, components, etc., designed or arranged to work together: often used attributively: gang drills
a very large number of persons or things
Origin of gang
ME, a band or company, origin, originally , a going, journey from Old English from base of
gangan
: see gang
to form, or be associated in, a gang (with up)
Informal

to attack as a gang
to arrange in a gang, or coordinated set
gang up on
Informal
to attack or oppose as a group
Origin of gang
Middle English
gangen
from Old English
gangan
, akin to Old Norse
ganga
, Gothic
gaggan
, to go from Indo-European base an unverified form
?hengh-
from source Sanskrit
já?has-
, a step
---
gang
noun
A group of criminals or hoodlums who band together for mutual protection and profit.
A group of adolescents who band together, especially a group of delinquents.
Informal A group of people who associate regularly on a social basis: The whole gang from the office went to a clambake.
A group of laborers organized together on one job or under one foreperson: a railroad gang.
A matched or coordinated set, as of tools: a gang of chisels.

a. A pack of wolves or wild dogs.

b. A herd, especially of buffalo or elk.
verb
ganged, gang·ing, gangs
verb
intransitive
To band together as a group or gang.
verb
transitive
To arrange or assemble into a group, as for simultaneous operation or production: gang several pages onto one printing plate.
To attack as an organized group.
Phrasal Verbs:
gang up
To join together in opposition or attack:
The older children were always ganging up on the little ones.
To act together as a group:
various agencies ganging up to combat the use of illicit drugs.
Origin of gang
Middle English
band of men
from
Old English
journey
and
Old Norse
-gangr
journey, group
(
as in
thjofagangr
gang of thieves
)
---
gang

---