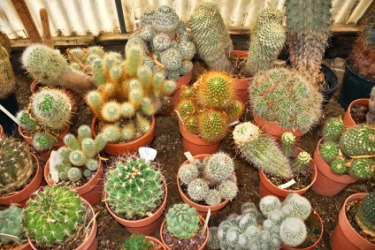 Cactus plants of many different varieties.
Licensed from iStockPhoto
---
noun
pl. cactuses or cacti
any desert plants of the cactus family, native to the New World, with fleshy stems, reduced or spinelike leaves, and often showy flowers
Origin: Modern Latin ; from Classical Greek kaktos, kind of thistle, cardoon
adjective
designating a family (Cactaceae) of dicotyledonous plants (order Caryophyllales), including the prickly pear, saguaro, and cereus
Webster's New World College Dictionary
Copyright © 2010 by Wiley Publishing, Inc., Cleveland, Ohio.
Used by arrangement with John Wiley & Sons, Inc.
---
noun
pl.
cac·ti
or
cac·tus·es
Any of various succulent, spiny, usually leafless plants native mostly to arid regions of the New World, having variously colored, often showy flowers with numerous stamens and petals.
Any of several similar plants.
Origin: Latin, cardoon, from Greek kaktos.
The American Heritage® Dictionary of the English Language
, 4th edition Copyright © 2010 by Houghton Mifflin Harcourt Publishing Company. Published by Houghton Mifflin Harcourt Publishing Company. All rights reserved.