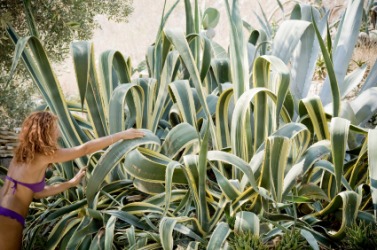 A large agave plant.
---
agave definition by Webster's New World
noun
any of several plants (genus Agave) of the agave family, as the century plant: some agaves yield a fiber used for rope
Origin: Modern Latin ; from Classical Greek Agauē, a proper name, literally , illustrious, feminine of agauos, famous
adjective
designating a family (Agavaceae) of monocotyledonous desert plants (order Liliales)
Webster's New World College Dictionary Copyright © 2010 by Wiley Publishing, Inc., Cleveland, Ohio. Used by arrangement with John Wiley & Sons, Inc.
---
agave definition by American Heritage Dictionary
noun
Any of numerous plants of the genus Agave, native to hot, dry regions of the New World and having basal rosettes of tough, sword-shaped, often spiny-margined leaves. Agaves are grown for ornament, fiber, and food. Also called century plant.
Origin: New Latin Agavē, genus name, from Greek agauē, feminine of agauos, noble.