verb
The definition of bellow means to roar or create a loud, deep sounding cry.

An example of bellow is for a cow to moo.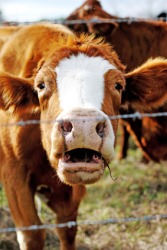 A bellowing cow.
---
bellow definition by Webster's New World
intransitive verb
to roar with a powerful, reverberating sound, as a bull does
to cry out loudly, as in anger or pain
Origin: Middle English belwen ; from Old English bylgan: for Indo-European base see bell
transitive verb
to utter loudly or powerfully
noun
the sound of bellowing
Bellow, Saul (born Solomon Bellows) 1915-2005; U.S. novelist, born in Canada
Webster's New World College Dictionary Copyright © 2010 by Wiley Publishing, Inc., Cleveland, Ohio. Used by arrangement with John Wiley & Sons, Inc.
---
bellow definition by American Heritage Dictionary
verb
bel·lowed
,
bel·low·ing
,
bel·lows
verb
, intransitive
To make the deep roaring sound characteristic of a bull.
To shout in a deep voice.
verb
, transitive
To utter in a loud, powerful voice. See Synonyms at
shout
.
noun
The roar of a large animal, such as a bull.
A very loud utterance or other sound.
Origin: Middle English belwen, perhaps from Old English belgan, to be enraged, and bylgan, to bellow.
Related Forms:
, Saul 1915-2005.
Canadian-born American writer whose novels, including The Dangling Man (1944) and Humboldt's Gift (1975), often concern an alienated individual within an indifferent society. He won the 1976 Nobel Prize for literature.