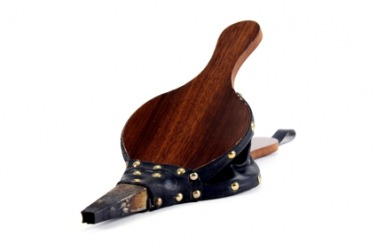 Bellows used to kindle a fire.
---
bellows definition by Webster's New World
singular noun
a device that produces a stream of air through a narrow tube when its sides are pressed together: used in pipe organs, for blowing fires, etc.
anything like a bellows, as the folding part of some cameras, the lungs, etc.
Origin: Middle English belwes, origin, originally plural of beli: see belly
Bellows, George (Wesley) 1882-1925; U.S. painter
Webster's New World College Dictionary Copyright © 2010 by Wiley Publishing, Inc., Cleveland, Ohio. Used by arrangement with John Wiley & Sons, Inc.
---
bellows definition by American Heritage Dictionary
plural noun
(used with a sing. or pl. verb)
a. An apparatus for producing a strong current of air, as for sounding a pipe organ or increasing the draft to a fire, consisting of a flexible, valved air chamber that is contracted and expanded by pumping to force the air through a nozzle.

b. Something, such as the pleated windbag of an accordion, that resembles this apparatus.

The lungs.
Origin: Middle English belowes, from Old English belgas, pl. of belg; see bhelgh- in Indo-European roots.
, George Wesley 1882-1925.
American artist noted for his energetic paintings of sporting scenes, such as Stag at Sharkey's (1907).