noun
An arrow is defined as a slender, straight weapon, generally with feathers attached to the end, that is shot from a bow.

An example of an arrow is a popular weapon used by early Native Americans for hunting.

The definition of an arrow is a shape with a wedge at one end and a triangle at another to indicate direction.

A "Left Turn Only" sign is an example of something with an arrow on it.
YourDictionary definition and usage example. Copyright © 2013 by LoveToKnow Corp.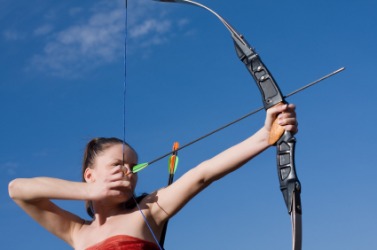 A woman about to shoot an arrow from a bow.
Licensed from iStockPhoto
---
noun
a slender shaft, usually pointed at one end and feathered at the other, for shooting from a bow
anything like an arrow in form, speed, purpose, etc.
a sign (←), used to indicate direction or position
Origin: Old English earh, arwe; akin to Gothic arhwa- (for Indo-European base see arc); origin, originally sense of arrow was "belonging to the bow"
Arrow, Kenneth Joseph 1921-; U.S. economist
Webster's New World College Dictionary
Copyright © 2010 by Wiley Publishing, Inc., Cleveland, Ohio.
Used by arrangement with John Wiley & Sons, Inc.
---
noun
A missile having a straight thin shaft with a pointed head at one end and often flight-stabilizing vanes at the other, meant to be shot from a bow.
Something, such as a directional symbol, that is similar to an arrow in form or function.
intransitive verb
arrowed
,
arrow·ing
,
arrows
To move like an arrow.
Origin: Middle English arwe, from Old English.
The American Heritage® Dictionary of the English Language
, 4th edition Copyright © 2010 by Houghton Mifflin Harcourt Publishing Company. Published by Houghton Mifflin Harcourt Publishing Company. All rights reserved.