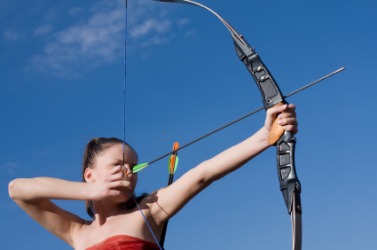 A woman about to shoot an arrow from a bow.
noun
An arrow is defined as a slender, straight weapon, generally with feathers attached to the end, that is shot from a bow.

An example of an arrow is a popular weapon used by early Native Americans for hunting.

The definition of an arrow is a shape with a wedge at one end and a triangle at another to indicate direction.

A "Left Turn Only" sign is an example of something with an arrow on it.
---
arrow
a slender shaft, usually pointed at one end and feathered at the other, for shooting from a bow
anything like an arrow in form, speed, purpose, etc.
a sign (?), used to indicate direction or position
Origin of arrow
Old English
earh, arwe
; akin to Gothic
arhwa-
(for Indo-European base see arc); origin, originally sense of
arrow
was "belonging to the bow"
Arrow
---
arrow
noun
A missile having a straight thin shaft with a pointed head at one end and often flight-stabilizing vanes at the other, meant to be shot from a bow.
Something, such as a directional symbol, that is similar to an arrow in form or function.
verb
arrowed, arrow·ing, arrows
verb
intransitive
To move like an arrow.
verb
transitive
To shoot with an arrow: arrowed a deer.
Origin of arrow
Middle English
arwe
from
Old English
---
arrow

Noun
(plural arrows)
A projectile consisting of a shaft, a point and a tail with stabilizing fins that is shot from a bow.
(graph theory) A directed edge.
(colloquial, darts) A dart.
Verb
(third-person singular simple present arrows, present participle arrowing, simple past and past participle arrowed)
To move swiftly and directly (like an arrow)
To let fly swiftly and directly
Origin
Representing pronunciation.
---