noun
Flight is defined as the act of flying or leaving.

An example of flight is a bird in the sky.
An example of a flight is traveling by airplane from New York to California.
An example of flight is running away from a burning building.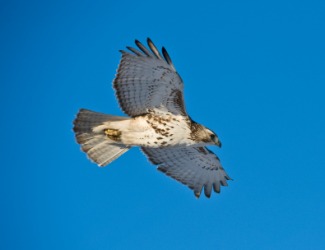 A bird in flight.
---
flight
noun
the act, manner, or power of flying or moving through space
the distance covered or that can be covered at one time by an airplane, bird, projectile, etc.
a group of things flying through the air together: a flight of birds, arrows, etc.

a military flight formation
the smallest tactical unit in an air force; specif., in the U.S. Air Force, a subdivision of a squadron

an airplane scheduled to fly a certain route at a certain time
a trip by airplane or spacecraft
an outburst or soaring above the ordinary: a flight of fancy
a set of stairs, as between landings or floors
a flight arrow

Sports

a division of contestants grouped according to ability
Origin of flight
Middle English
fliht
; from Old English
flyht
(akin to Old Saxon
fluht
, Dutch
vlucht
) ; from base of
fleogan
, fly
intransitive verb
to fly in numbers: said of birds
take flight
to take wing, take off, etc.; become airborne and fly
noun
a fleeing from or as from danger
Origin of flight
Middle English
fliht, fluht
; from Old English
flyht
; from base of
fleon
, flee
---
flight
noun
a. The motion of an object in or through a medium, especially through the earth's atmosphere or through space.

b. An instance of such motion.

c. The distance covered in such motion: the long flight from Seattle to Little Rock.

a. The act or process of flying through the air by means of wings.

b. The ability to fly: Flight is characteristic of nearly all birds.

A swift passage or movement: barely noticed the flight of time.
A scheduled airline run or trip into space: the 7:00 flight to New York; the next flight of the space shuttle.
A group, especially of birds or aircraft, flying together.
A number of aircraft in the US Air Force forming a subdivision of a squadron.
A round of competition, as in a sports tournament.
An exuberant or transcendent effort or display: a flight of the imagination; flights of oratory.
A series of stairs rising from one landing to another.
A curved plate or flange that winds in a spiral around the center shaft of an auger, designed to transport loose material upward or backward along the shaft as the auger rotates. Also called flighting.
intransitive verb
flight·ed
,
flight·ing
,
flights
To migrate or fly in flocks.
Origin of flight
Middle English, from Old English
flyht
; see
pleu-
in Indo-European roots.
noun
The act or an instance of running away; an escape.
Origin of flight
Middle English, from Old English
*flyht
; see
pleu-
in Indo-European roots.
---
flight
Noun
(countable and uncountable, plural flights)
The act of flying.

Birds are capable of flight

An instance of flying.

The migrating birds' flight took them to Africa.

A journey made by an aircraft, eg a balloon, plane or space shuttle, particularly one between two airports, which needs to be reserved in advance.

The flight to Paris leaves at 7 o'clock tonight
Where is the departure gate for flight 747? / Go straight down and to the right.

The act of fleeing. (Flight is the noun which corresponds to the verb flee.)

take flight

A set of stairs or an escalator. A series of stairs between landings.
A floor which is reached by stairs or escalators.

How many flights is it up?

A paper plane.
(cricket) The movement of a spinning ball through the air - concerns its speed, trajectory and drift.
The ballistic trajectory of an arrow or other projectile.
An aerodynamic surface designed to guide such a projectile's trajectory.
An air force unit.
Several sample glasses of a specific wine varietal or other beverage. The pours are smaller than a full glass and the flight will generally include three to five different samples.
Verb
(third-person singular simple present flights, present participle flighting, simple past and past participle flighted)
Origin
From Middle English, from Old English flyht, from Proto-Germanic *fluhtiz. Cognate with Dutch vlucht and German Flucht.
---