reed

reed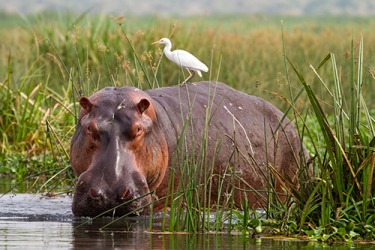 A hippopotamus is standing among the reeds along the bank of the river.
noun
The definition of a reed is a tall, slender plant, a person who is tall and slender, or is a musical instrument made from such a plant.

A tall, thin plant like a blade of grass is an example of a reed.
A tall, thin person is an example of a reed.
---
reed
any of various tall, slender grasses (esp. genus Phragmites), with plumelike inflorescences, growing in wet or marshy land
the stem of any of these grasses
such plants or stems collectively, specif. as material for thatching, basketwork, etc.

a rustic musical instrument made from a hollow stem or stalk and played by blowing through it
an ancient Hebrew unit of linear measure equal to 6 cubits: Ezek. 40:3
a device on a loom, by means of which threads are drawn between the separated threads of the warp

Old Poet.

an arrow

Archit.

a small, rounded molding; reeding

Music

a thin strip of some flexible substance, as cane, placed at the opening of the mouthpiece of certain wind instruments, as the clarinet: when vibrated by the breath, it produces a musical tone
an instrument with a reed or reeds
in some organs, a similar device that vibrates in a current of air
[pl.] the reed instruments (esp., in jazz, the saxophones and clarinets) of an orchestra, band, etc., or the players of these instruments
Origin of reed
Middle English
rede
from Old English
hreod,
akin to Old High German
hriot
from Indo-European base an unverified form
kreut-,
to shake, tremble
designating an instrument whose sound is produced by a vibrating reed or reeds, specif., the oboe, clarinet, saxophone, English horn, or bassoon
of or for such an instrument or instruments: a reed section
to thatch or decorate with reeds
Reed
1887-1920; U.S. journalist & radical

1851-1902; U.S. army surgeon & bacteriologist
---
reed
noun
a. Any of various tall perennial grasses, especially of the genera Phragmites and Arundo, having hollow stems and large plumelike panicles and growing in wetlands.

b. Any of several similar plants, such as the papyrus.

c. The stalk of any of these plants.

d. A collection of these stalks: reed for making baskets.

Music A primitive wind instrument made of a hollow reed stalk.
Music

a. A flexible strip of cane or metal set into the mouthpiece or air opening of certain instruments to produce tone by vibrating in response to a stream of air.

b. An instrument, such as an oboe or clarinet, that is fitted with a reed.

A narrow movable frame fitted with reed or metal strips that separate the warp threads in weaving.
Architecture A reeding.
Origin of reed
Middle English
red, rede
from
Old English
hrēod
---
reed

Noun
(countable and uncountable, plural reeds)
(botany, countable) Any of various types of tall stiff perennial grass-like plants growing together in groups near water.
(countable, botany) The hollow stem of these plants.
(countable, music) Part of the mouthpiece of certain woodwind instruments, comprising of a thin piece of wood or metal which shakes very quickly to produce sound when a musician blows over it.
(countable, music) A musical instrument such as the clarinet or oboe, which produces sound when a musician blows on the reed.
(countable, weaving), a comb like tool for beating the weft when weaving.
(uncountable) reeding
Verb
(third-person singular simple present reeds, present participle reeding, simple past and past participle reeded)
To mill or mint with reeding.
Origin
Middle English rede, Old English hrēod. Akin to German Ried. No cognates in North Germanic languages, but a Gothic [script?] (hriud) was derived . It is theorised that the word may have a relation to ritae in Noctes Atticae (Aulus Gellius).
Verb
Simple past tense and past participle of ree.
Noun
(plural reeds)
(UK, Scotland, dialect) The fourth stomach of a ruminant; rennet.
---