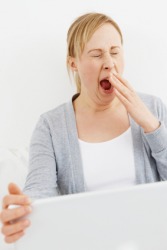 A woman yawns.
noun
The definition of a yawn is something that was boring, or the physical act of yawning.

An example of a yawn is a really slow-moving film.
An example of a yawn is what happens with your mouth when you're expressing that you're tired.
verb
To yawn is to open widely, or to open your mouth widely and breathe in because you are tired.

Reasons for a Yawn

The most common theory is that yawning is a result of slow breathing due to boredom or tiredness. Slow breathing increases the levels of carbon dioxide gas in the body. As a means of coping, the brain triggers the yawning action.

Some think that the yawn is caused because the brain is too warm. The inhalation of cool air promotes the lowering of the brain temperature, resulting in your brain working more efficiently.
When you see others yawning, the mirror neurons in the brain can cause the mirroring effect causing the neurons to fire up, leading to the yawning reaction.

An example of yawn is for a crack in the sidewalk to open wider during an earthquake.
An example of yawn is to feel tired during a performance and have your mouth open to deply inhale and then exhale air.
---
yawn
to open the mouth wide, esp. involuntarily, and breathe in deeply, as a result of fatigue, drowsiness, or boredom
to be or become wide open; gape: a yawning chasm
Origin of yawn
Middle English
yanen
, probably merging Old English
ginian
and
ganian
, to gape, akin to German
gähnen
from Indo-European base an unverified form
?hei-
, to gape, probably echoic of the yawning sound from source Classical Greek
chainein
, Classical Latin
hiare
, to gape
to express or utter with a yawn
an act of yawning or opening wide
a wide opening; chasm
---
yawn
verb
yawned, yawn·ing, yawns
verb
intransitive
To open the mouth wide with a deep inhalation, usually involuntarily from drowsiness, fatigue, or boredom.
To open wide; gape: The chasm yawned at our feet.
verb
transitive
To utter wearily, as while yawning: yawned his disapproval of the silly venture.
noun
The act of yawning.
Informal One that provokes yawns; a bore: The movie was nothing more than one big yawn.
Origin of yawn
Middle English
yanen
alteration of
yonen, yenen
from
Old English
geonian
Related Forms:
---
yawn

Verb
(third-person singular simple present yawns, present participle yawning, simple past and past participle yawned)
To open the mouth widely and take a long, rather deep breath, often because one is tired and sometimes accompanied by pandiculation.

I could see my students yawning, so I knew the lesson was boring them.

To present a wide opening.

The canyon yawns as it has done for millions of years, and we stand looking, dumbstruck.
Death yawned before us, and I hit the brakes.

To open the mouth, or to gape, through surprise or bewilderment.

To be eager; to desire to swallow anything; to express desire by yawning.

to yawn for fat livings
Noun
(plural yawns)
The action of yawning; opening the mouth widely and taking a long, rather deep breath, often because one is tired.
A particularly boring event.

The slideshow we sat through was such a yawn. I was glad when it finished.
Origin
(1) Partly from Middle English yanen ("to yawn"), from Old English ġānian, from Proto-Germanic *ganōnÄ… (compare North Frisian jÃ¥ne, German gähnen, dialectal Swedish gana ("to gape, gawk")), denominative of *ganaz (compare Swedish gan ("gullet, maw"));(2) and partly from Middle English yenen, yonen ("to yawn"), from Old English Ä¡inian, Ä¡ionian, frequentative of Ä¡Ä«nan, from Proto-Germanic *gÄ«nanÄ… (compare Norwegian gina ("to gape")), from Proto-Indo-European *ǵʰih₁-nehâ'' (compare Russian зинуть (zínutʹ), Greek χαίνω (chaíno));(3) both from *ǵʰehâ''u- "˜to yawn, gape' (compare Dutch geeuwen, Latin hiō, Tocharian A Å›ew, Tocharian B [script?] (kāyā), Lithuanian žioti, Russian зиять (zijátʹ), Sanskrit विजिहीते (vijihÄ«te).
---