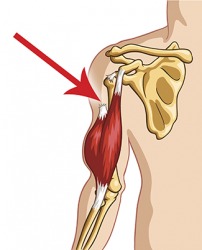 An illustration of a ruptured sinew (tendon) of the bicep.
noun
The definition of a sinew is a tendon, the fibrous tissue that joins muscle and bones or any source of strength or power.

An example of sinew is the Achilles tendon in the back of the ankle.
---
sinew
a tendon
muscular power; strength
any source of power or strength; means of supplying strength: usually used in pl.
Origin of sinew
Middle English from Old English
seonwe
, oblique form from nominative
seonu
, akin to Old High German
senawa
, Old Norse
sin
from Indo-European base an unverified form
s?i-
, to bind, a band from source Classical Latin
saeta
, bristle, Sanskrit
sin?ti
, (he) ties
to strengthen as with sinews
---
sinew
noun
A tendon.
Vigorous strength; muscular power.
often sinews The source or mainstay of vitality and strength: "Good company and good discourse are the very sinews of virtue" ( Izaak Walton )
transitive verb
sin·ewed, sin·ew·ing, sin·ews
To strengthen with or as if with sinews.
Origin of sinew
Middle English
sinewe
from
Old English
sinewe
oblique form of
seonu, sinu
---
sinew

---