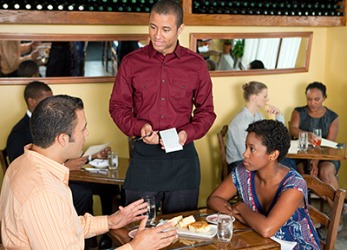 Alice gave her date a shrewd look when he spoke rudely to the waiter.
adjective
The definition of shrewd is sharp or intelligent with practical concerns.

An example of shrewd is only spending money on necessities.
---
shrewd
Obs.

evil, bad, wicked, mischievous, shrewish, etc.
artful, cunning, wily, etc. in one's dealings with others

keen-witted, clever, or sharp in practical affairs; astute: the usual current sense

Archaic

keen; piercing; sharp
Origin of shrewd
Middle English
schrewed
, past participle of
schrewen
, to curse from
schrewe
: see shrew
---
shrewd
adjective
shrewd·er, shrewd·est
Having or showing a clever awareness or resourcefulness, especially in practical matters.
Disposed to or marked by artful and cunning practices; tricky.
Archaic Sharp; penetrating: a shrewd wind.
Origin of shrewd
Middle English
shrewed
wicked
from
shrew
rascal
; see
shrew
.
Related Forms:
---
shrewd

Origin
From Middle English shrewe ("evil man"). See shrew
---