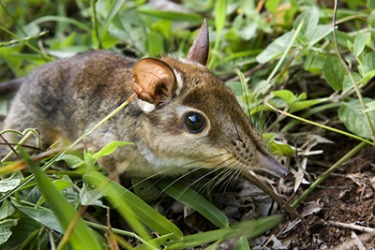 The four-toed elephant shrew is found in Central and East Africa.
noun
The definition of a shrew is a long-nosed, skinny mammal that looks like a mouse.

An example of a shrew is the Etruscan shrew.

Shrew is defined as a woman with a bad temper who nags or scolds.

An example of a shrew is a character in a novel that is angry for no reason all the time.
---
shrew
any of a number of small, slender, mouselike, insectivorous mammals (esp. family Soricidae) with soft fur and a long, pointed snout
a scolding, bad-tempered woman
Origin of shrew
Middle English
schrewe
, a malicious person from Old English
screawa
, shrewmouse, akin to Old High German
scrawaz
, dwarf, goblin, Middle High German
schröuwel
, devil from Indo-European an unverified form
(s)ker-
: see shred
---
shrew
noun
Any of various small, chiefly insectivorous mammals of the family Soricidae, resembling a mouse but having a long pointed snout and small eyes and ears. Also called shrewmouse .
A woman regarded as an ill-tempered scold or nag.
Origin of shrew
Middle English
shrewe
rascal, devil, evil creature, overbearing woman
from
Old English
scrēawa
shrewmouse
---
shrew

Noun
(plural shrews)
An ill-tempered, nagging woman: a scold.

You'd better not stay out late tonight "" your mother is quite a shrew and you'll never hear the end of it.
Verb
(third-person singular simple present shrews, present participle shrewing, simple past and past participle shrewed)
Origin
Old English scrēawa, of unknown origin.
---