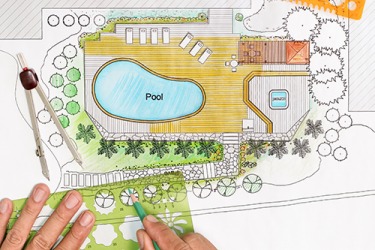 An artist's rendering of a backyard pool and landscape design.
noun
The definition of a rendering is a translation, interpretation, or a drawing.

An example of a rendering is an artist's interpretation of a scene.
---
rendering
the act of one who renders; specif.,
an interpretation or rendition
a translation
a perspective drawing depicting an architect's conception of a finished building, bridge, etc.

Masonry

a coat of plaster applied directly to brickwork, etc.
---
rendering
noun
A depiction or interpretation, as in painting or music.
A drawing in perspective of a proposed structure.
A translation: a rendering of Cicero's treatises into English.
A coat of plaster or cement applied to a masonry surface.
---
rendering

Verb
Present participle of render.
---
rendering - Computer Definition
---