pulp

pulp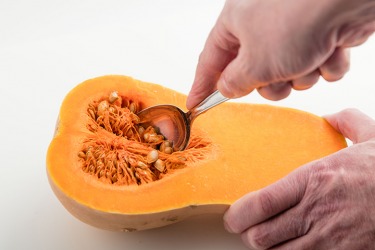 You should scoop the pulp out of a butternut squash before baking.
adjective
The definition of pulp is relating to a book or magazine printed on cheap paper.

An example of something pulp is a tabloid; a pulp newspaper.
noun
Pulp is the soft part of a fruit, or another soft mass.

An example of pulp are the soft chunks found in orange juice.
verb
Pulp is defined as to remove the soft mass, particularly from inside a fruit, plant or tooth.

An example of pulp is to take the insides out of an orange.
---
pulp
a soft, moist, formless mass that sticks together
the soft, juicy part of a fruit
the pith inside the stem of a plant
the soft, sensitive tissue in the center of a tooth, including blood vessels, nerves, etc.
a mixture of ground-up, moistened cellulose material, as wood, linen, rags, etc., from which paper is made
ore ground to a powder and mixed with water
a magazine printed on rough, inferior paper stock made from wood pulp and traditionally characterized by sensational stories of love, crime, etc.
Origin of pulp
French
pulpe
from Classical Latin
pulpa
, flesh, pulp of fruit
of or characteristic of pulp magazines: pulp fiction
to reduce to pulp
to remove the pulp from
---
pulp
noun
A soft moist shapeless mass of matter.

a. The soft moist part of fruit.

b. Plant matter remaining after a process, such as the extraction of juice by pressure, has been completed: apple pulp.

The soft pith forming the contents of the stem of a plant.
A mixture of cellulose material, such as wood, paper, and rags, ground up and moistened to make paper.
The soft tissue forming the inner structure of a tooth and containing nerves and blood vessels.
A mixture of crushed ore and water.

a. A publication, such as a magazine or book, containing lurid subject matter: "The pulps took the mystery story out of the parlors … and onto the 'mean streets'" ( Tony Hillerman )

b. Lurid or sensational writing or subject matter: made a good living writing pulp.
verb
pulped, pulp·ing, pulps
verb
transitive
To reduce to pulp.
To remove the pulp from (coffee berries).
verb
intransitive
To be reduced to a pulpy consistency.
Origin of pulp
Middle English
from
Latin
pulpa
fleshy parts of the body, fruit pulp
Related Forms:
pulp′ous pulp′y

adjective
---
pulp

Verb
(third-person singular simple present pulps, present participle pulping, simple past and past participle pulped)
To make, or be made into pulp
To beat to a pulp.
---